Modern Times Protocosmos Debuts Today
(San Diego,CA) – Today we're releasing Protocosmos, the 3rd in our series of monthly 22oz releases. It tastes like the bitter tears of a diabolical wizard mixed with sweet nectar from a dragon's teat. (Tonight is the first meeting of the Modern Times Dungeons & Dragon's Round Table, so I'm rolling with the theme).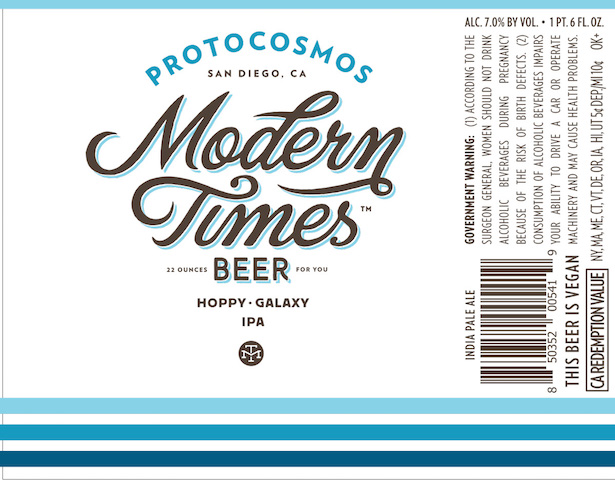 A 7% ABV IPA employing a mix of Galaxy, Ahtanum, and Centennial, Protocosmos is a fragrant, complex, aggressively hoppy beer. Pineapple; orange zest; and a profound, deep, almost vibrational dankness positively billow from the glass, and the light malt backbone provides the perfect support for this remarkably delicious IPA. More bitter and aggressive than Booming Rollers, Protocomsos is a one-time deal, so snatch it up if you see it.
Bottles go on-sale today at both tasting rooms at 12pm for $6.99 each. We'll also have a cask of Protocosmos w/ pineapple at the Lomaland Fermentorium & a cask of Protocosmos w/ grapefruit zest at the North Park Flavordome. Pints of these casks confer +5 points Charisma.
Protocosmos bottles head up to our distributor tomorrow & should hit shelves widely next week. Expect to find them at most places you saw City of the Dead.