Modern Times Aurora is Back
(San Diego, CA) – Fall is only a few weeks away from making its official arrival, and temperatures are finally starting to cool down. The coming of the cooler season also means it's time for a new canned seasonal release from Modern Times Beer! When deciding what to brew as our fall can release, one thing was certain– we didn't want to crowd the shelves with yet another mediocre squash inspired seasonal. With that in mind, we landed on Aurora, our red rye IPA.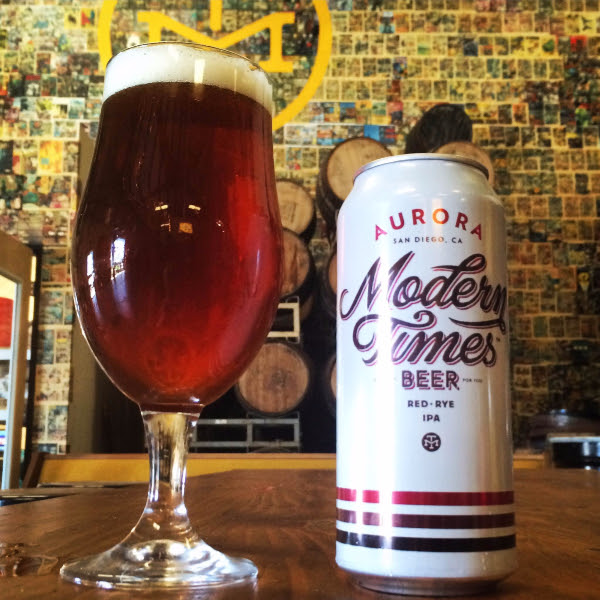 At 6.7%, Aurora is the perfect marriage between autumnal spice flavors and fresh SoCal inspired hop-notes. The fruity dankness imparted by the Equinox, Centennial, Motueka, and Experimental 07270 hops complements the hefty (and spice driven) dose of rye incorporated in its malt build. Aurora pours a vibrant ruby red, reminiscent of crisp fall leaves or the fresh blood of a unicorn.
Aurora will be available ON DRAFT & IN CANS TOMORROW in both of our tasting rooms. Expect to see Aurora cans in the wild, where you've previously found our seasonal can releases in the next couple weeks.
PS. With Aurora on its way in, Oneida's on its way out! Oneida won't be seen again until next year so consider stocking up on what's left of those cans if you spot some in our tasting rooms or out and about.
IN OTHER NEWS, we've been filling A LOT of barrels with tasty, tasty beer. On the wild side, we filled some Pinot Noir barrels with what will be a deliciously funky saison AND loaded about 60 barrels with our latest iteration of a sour brown & sour red. We're expecting those sours to be ready in 12-18 months, and we're already stoked to share them with you. Additionally, we just emptied multiple fermentors' worth of Monsters' Park into tequila, bourbon, & brandy barrels. While these barrel-aged beers will be well worth the wait, we're happy to announce we've got some perfectly aged barrels that are just about ready to make their way to your facemouths. Details for purchasing these upcoming barrel-aged brews are coming VERY SOON. Stay tuned.
www.moderntimesbeer.com – @ModernTimesBeer – facebook