Maui Brewing Co. Collaborates with Dogfish Head on Liquid Breadfruit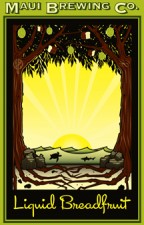 LAHAINA, MAUI, HI – 29 September 2012 – Maui Brewing Co. (MBC) is very proud to announce the upcoming release of their first collaboration with Dogfish Head Craft Brewed Ales (DFH) of Milton, Delaware. Liquid Breadfruit is an Imperial Golden Ale brewed with 'ulu (local Maui breadfruit) and toasted papaya seeds. This unique beer also utilizes "DNA" (Delaware Native Ale), a special yeast, captured outside a peach farm in Delaware. Liquid Breadfruit marks the third in the quarterly limited releases announced by MBC earlier this year. Earlier releases have been La Perouse White (Spring 2012) and Sobrehumano Palena'ole (Summer 2012). Liquid Breadfruit will be released in October.
Craft brewing wunderkinds Garrett Marrero (MBC) and Sam Calagione (DFH) had talked about a collaboration brew. After reading an invitation from Garrett to her dad, Sam's young daughter, Grier, just couldn't hold back her excitement at the possibility of traveling to Hawaii. So, in part, thanks to a little girl's inquisitiveness and ensuing persistence, plans for the collaboration really started to come together. So, how was the idea for a breadfruit beer born? Sam recalls, "One day I saw an article in a newspaper about breadfruit and it sounded enticing. We had isolated a yeast native to Delaware that has a lot of tropical notes … I said 'DANG' to myself and shot Garrett an email asking him what he thought about breadfruit." The response was extremely positive and, together, the brewers at DFH and MBC started developing the recipe. This collaborative effort pulled in many ideas – including the use of toasted papaya seeds, Calypso hops and adding additional bread-inspired grains in the beer. And, the name, seemed simple enough to Sam – he says, "I thought it would be cool to call the beer LIQUID BREADFRUIT – since beer has been called 'liquid bread' for centuries."
The Breadfruit Institute of Hana, Maui, Hawaii is an organization that promotes the conservation and use of breadfruit for food and reforestation. Garrett and Sam spoke with Ian Cole and Diane Ragone to learn more about this very important, staple crop of Polynesian cultures. The fruit and seeds of all species of breadfruit are edible and nutritious, providing protein and minerals, and the tree can also provide materials for construction, medicine, fabric, glue, insect repellent, animal feed and more. While this "tree of bread" has the potential to play a large role in alleviating hunger in many parts of the world, it intrigued this duo to do what they do best – to push the boundaries of craft beer! Approximately 2500 lbs. of breadfruit was harvested for the Liquid Breadfruit Project; and 10.5 lbs. of papaya seeds painstakingly harvested by staff and local farmers markets.
Approximately 400 barrels will be produced out of which 4300 cases will be canned and the difference to be available in draft. All market areas where MBC is distributed will receive product but specific allocations will be based on sales. "The only downside to this project is that we had originally scheduled LB for a September release but due to a late breadfruit harvest, this schedule has been pushed back to October," tells us Garrett Marrero. "But all good things take time. Sam and I enjoyed working together on this project and we look forward to being able to share it with our fellow craft beer lovers. The pub batch brewed as a test in April was a HUGE hit at our annual Maui Brewer's Festival." Fans will be sure to enjoy the whimsical and brightly colored graphics on the packaging as well as what is in the can. When Sam sampled the first batch, he said, "it tasted like what it feels like to be on Maui…like nature magnified: tropical and refreshing and lovely."
Maui Brewing Co. is a truly Hawaiian brewery, and proud to make 100% of their beer, canned and draft, in Hawaii. Recognized as Hawaii's #1 craft beer since 2005, the company has a strong commitment to the local economy and the environment. MBC beers are packaged with the most eco-friendly materials. Cans are manufactured on Oahu and designed by local Maui artists. They have the added bonus of better protecting the beer from both light and oxygen damage which can compromise the taste. Plastic rings are dangerous to marine life and therefore, a unique, recyclable plastic carrying device is used to hold the cans. The spent grain from beer production is donated to local ranchers for cattle feed and composting. MBC is also very active in several local Hawaiian charities. Founder Garrett Marrero and his wife, Melanie, operate a 7-barrel brewpub at the Kahana location as well as a 25-barrel production brewery and canning facility in Lahaina. Maui Brewing Co. is a truly local beer as 100% of their products are made in Hawaii. Contact [email protected] for interviews, additional information, or media questions. To order for your retail/restaurant/resort establishment, contact [email protected]
Brewpub
Kahana Gateway Center
4405 Honoapiilani Highway #217
Lahaina (Kahana), Maui, HI 96761
Production Brewery
910 Honoapiilani Highway
Suite#55
Lahaina, Maui, HI 96761