Lost Abbey Cable Car 2013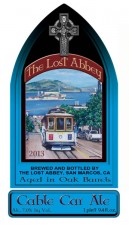 From Lost Abbey – You've made it to 547 Haight Street. This destination is more San Francisco than Rice A Roni, Chinatown, and Lombard Street combined. Welcome to Broadway for brewers everywhere. Everyone who is anyone has poured their kegs here. For the last 20 years, this place has launched careers, confirmed legacies, and since 1987 the only name you need to know is David Keene. Take a seat. Tip Strong. Nod appreciatively and don't ask stupid questions. Welcome to Big Daddy's House known to most simply as "The T-Room." Here the bartenders are fluent in English, German, Flemish, French, Waloon and Czech. But they're most know for their American Lip Service. Watch it. The lady with the jet black hair behind the bar eats idiots for lunch. At 547 Haight Street, you won't find any Cable Cars except for this one. But if you're standing outside the Dutch Doors of the World Famous Toranado, you surly found the most interesting place in all San Francisco. Its' about RESPECT. Dave you continue to have ours. Here's to 20 more years of punishing livers everywhere. Cheers Gina, Jim, Tomme, Vince and the Brewers of Port Brewing.
The Lost Abbey – Lost Abbey Cable Car Vintage 2013 – 750 ml. bottle poured into a goblet.
Appearance: Pours a hazy amber tinted gold with a firm cap of white tight bubbles.
Aroma: Lemony brett funk, hay, pineapple, white wine.
Taste: Industrial funky, white wine, oak, low to no hop presence, very tart finish.
Mouthfeel:  Effervescent , fizzy, medium bodied , light.
Overall: Very grateful to be able to try this beer in more than just a thimble. It's easily in the top 3 American made sours I've tried.  It would be really cool if Lost Abby could produce this beer on a larger scale so more people can try and enjoy.