Lompoc Brewing Gets 2018 GABF Gold
(PORTLAND, OR) – Lompoc Brewing took home a Gold Medal this past weekend for its Lomporter Premium Northwest Porter at the 2018 Great American Beer Festival® (GABF) which took place in Denver, Colo. on Sept. 22. Lompoc was one of 16 Oregon breweries to take home a medal.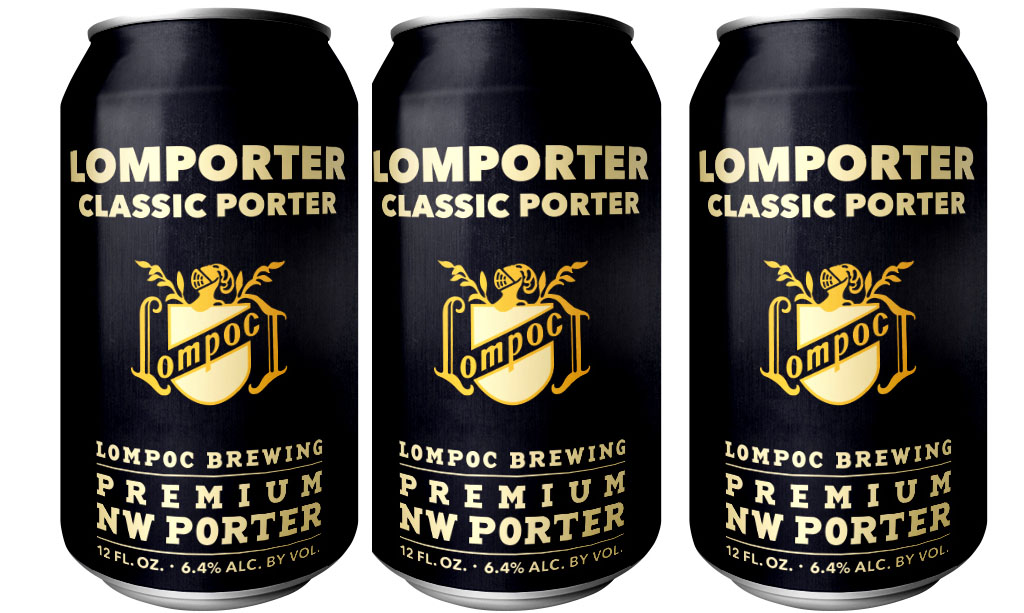 Lomporter won gold in the Robust Porter category, out of a total of 91 entries. This marks the second GABF medal win for Lompoc; the Portland brewery took home a silver for its classic Proletariat Red in 2015.
"We are honored to win a gold medal for Lomporter, especially with so many entries in the category," stated Lompoc owner Jerry Fechter. "We just introduced this beer to the market last year, and it's already a pub favorite."
Lomporter is a classic robust porter that offers a creamy taste of dark chocolate complemented by dark cherry and hints of coffee. Brewed with dark wheat, rauch, and chocolate malts, this beer strikes a fine balance between heavy and light. It's robust enough to sip, but smooth enough to have another. It comes in at 6.4 percent ABV and is available in 12-oz. cans and on draft.
"The Lompoc team works extremely hard and we are honored to receive a gold at GABF for Lomporter," exclaimed head brewer Bryan Keilty. "The GABF is an amazing event and reminds us how proud we are to be a part of the Northwest beer community."
The GABF awarded 306 medals to 280 breweries overall at this year's competition. Sixteen Oregon breweries took home a total of 22 medals, including five gold, 10 silver and seven bronze.
Ask for a complimentary taste of America's best robust porter at any of Lompoc's three pubs.
About Lompoc Brewing
Established in 1996, Lompoc Brewing is a longtime Portland favorite that brews eight year-round beers and an ever-rotating lineup of seasonals. You can find Lompoc in bottles, cans and on draft at locations throughout Oregon and Washington, and at its three Portland neighborhood pubs: 5th Quadrant and Sidebar in North Portland, and Oaks Bottom in Southeast. Lompoc beers are proudly brewed in #LompocOregon, a state of mind. For more information, visit LompocBrewing.com and follow @LompocBrewing on social media.
About the Great American Beer Festival®
Presented by the Brewers Association, the GABF is the largest commercial beer competition in the world and a symbol of brewing excellence. In its 32nd year of competition, there were a total of 8,496 entries (plus 101 Pro-Am and 49 Collaboration entries) from 2,404 breweries representing 49 states plus Washington, DC. Award-winning brewers received medals in 102 beer categories covering 167 different beer styles (including all subcategories), establishing the best examples of each style in the country and earning a symbol of brewing excellence.