Lompoc Brewing – Drink Beer for a Good Cause? Helles Yes!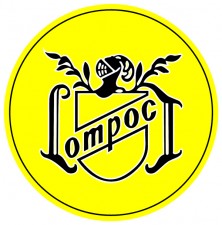 What's more Portland than bikes and brews? Neighbors helping neighbors — and all that Portlandness comes together when Laughing Planet Cafés, Lompoc Brewing locations and a number of other area brew pubs join together to pour Lompoc's Helles on Wheels as a benefit for the Albina Youth Opportunity School (AYOS).
Each participating establishment will donate fifty cents to one dollar to the non-profit alternative school for every pint sold between now and June 12.
Lompoc originally brewed Helles on Wheels specifically for Laughing Planet Café's annual Cirque du Cycling event, an all day bike festival taking place June 12 on North Mississippi Ave.  Helles on Wheels is an easy drinking German-style pale lager that is golden straw in color with a floral aroma and a clean, crisp finish.  The beer will be featured in the Lompoc Beer Garden at Cirque Du Cycling.
When Lompoc Brewmaster Dave Fleming learned of Laughing Planet Café's associaton with AYOS, he and his fellow brewers decided they could raise even more funds for the school with donations from every pint sold for a three-week period, as opposed to focusing solely on the one day festival.
"Lompoc is big on helping neighborhood organizations, and raising funds for the AYOS seemed like a great way to give back to the North Portland community," explained Fleming.  "Plus, we loved the name Helles on Wheels!."
Cirque du Cycling includes The Grand Central Baking Family Ride, a bike parade and the country's only two-way criterium bike race. Attendees can set up lawn chairs along the route, or watch the action while enjoying a cold Helles on Wheels at the Lompoc Beer Garden, which opens at 2 p.m. on the north end of the street. Guests will also have the opportunity to join Eat Oyster Bar for race day gumbo and mint juleps at the same location. A second beer garden will be located at the south end of the street, next to Amnesia Brewing.
For more information about Cirque du Cycling, visit www.CyclingCircus.com.  For more info on Lompoc, visit www.newoldlompoc.com.