Lompoc Brewing Announces Kick Axe Ale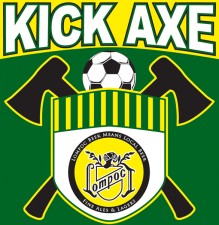 Portland, OR – We're excited to release our Kick Axe Ale on draft and in bottles this Friday at Sidebar from 4-10 pm. The unofficial beer of the Timbers Army, Kick Axe is a crisp and nicely hopped pale ale that has been dry hopped in the fermenter with whole leaf Cascades for a huge hop aroma.
It weighs in at 5.2%. Lompoc will donate $1 per case and $5 per keg sold to the Timbers Army 107ists. Take some home to drink while watching the games – 22 oz bottles are $5 at Lompoc.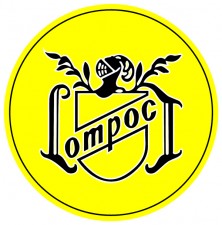 We'll also be serving Living Proof Ale, a non-traditional Belgian Dubbel style using malted barley, corn, molasses and Cluster hops. Hints of licorice and tobacco add to the malty body and dry finish; Bourbon Barrel Aged Dagda, an Irish style red ale aged in Bourbon barrels for 11 months, then cellared for one more. It has a mahogany color and a cherry, oak aroma to complement the malty body and slight toasted oak flavor; 2009 Jolly Bock, a holiday lager brewed with a generous amount of Munich malt to develop a deep amber color and rich malt flavor, which is balanced with a spicy hop bitterness; Proletariat Red, a malty and full bodied red ale with a deep, rich red color; and Fool's Golden Ale, our light, refreshing session beer that blends malted wheat and Crystal hops. Sidebar is open Friday 4-10 pm and Saturday, 2-10 pm.
We'll be showing all of the Portland Timbers home and away games this season at the New Old Lompoc, Fifth Quadrant, Oaks Bottom & Sidebar. When the games fall on Saturday or Sunday, it's Happy Hour all day, which means all regular Lompoc beers are $3.25 and cocktails are $1 off. Better yet, join the Timbers Army – beers are always $3.25 at the Lompoc pubs for TA members (not applicable at Sidebar).
This Saturday, our own Dave "Chowdah" Fleming will be at Zupan's Market at 2340 W Burnside Street doing a tasting from 3-6 pm. Come say hi and grab some samples of Kick Axe, Proletariat Red, C-Note and Bourbon Barrel Aged Dagda.
Next Friday, April 15, we'll be drowning our tax day sorrows at Sidebar from 4-10 pm with the release of 1060 EZ Taxation Ale, a high gravity golden ale brewed with flaked corn. Its deep golden color and aroma of corn grits complement the light body and flavor notes of cornbread and honey. We'll also release our Don Younger Tribute beer that night: Don's Bitter was first brewed for Don and the Horse Brass' sister pub, The Princess of Wales, in the fall of 2009. Don called the original batch "extremely close" to the ordinary bitters omnipresent in British pubs, and as a tribute to Portland's finest publican, we've tweaked the recipe slightly to Don's taste to honor him. Brewed with the finest quality Golden Promise malt and English Challenger and Fuggle hops, Don's Bitter is anything but ordinary with a deep golden hue, and earthy, slightly sweet maltiness that is delicately balanced by English hops for a highly quaffable pint perfect for a few rounds with friends at the pub.
Congratulations to Michael Roberson who won the March monthly Pub Tales photo contest at Hedge House. This month's featured photo has been posted – visit Hedge House to see the photo, then create a story about it in 100 words or less. Email your story to [email protected] by Monday, April 25, then join the group reading on April 27.
Drink Local. Drink Lompoc!