Legend Brewing Unveils Updated Branding & Packaging
(Richmond, VA) – Legend Brewing Company is going on its twenty-fourth year of operation and has remained a staple in Virginia's Craft Beer Scene. With the changing tides, Legend has consistently adapted.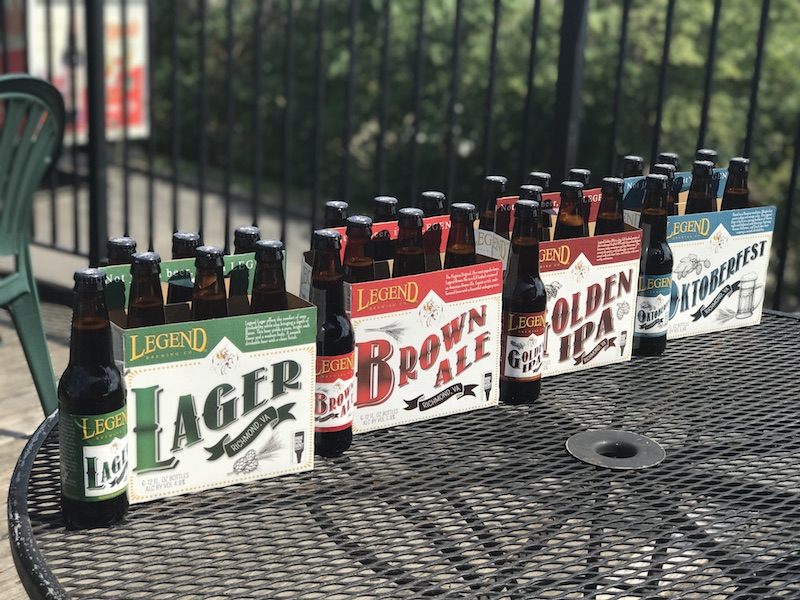 In 2013, Legend introduced its Urban Legend Series, a series of one-off beers that strayed from the brewery's traditional German and English style theme. The Urban Legend series was the brewery's way of adapting to the changing market then. Now, marketing and branding is the industry's focus.
Legend has swapped out their classic Old English for a refreshing modernized style and is rolling out a brand new line of 6 packs, 12 packs and cases to go along with it. You may have already seen a few glimpses of the new design — the brewery's past two Urban Legend releases showcased the new look.
Legend's Oktoberfest will be the first brand to make it to the shelves with Brown Ale, Lager and Golden IPA to follow. Following the unveil of its core 12oz bottle brands, Legend will then introduce the new style to it's 22oz products.
In addition to new marketing efforts, Legend is always working at new and better ways to improve Quality Control. Legend Beer is tested when it first makes it in to the fermenter, a few times after, again in the brite tank before bottling, and once more before the bottles are sent to the market. Legend recently invested in a CDR BeerLab, which allows testing on wort, water, process beer, and finished beer. This technology creates a more efficient way for Legend to provide consumers with the most accurate measurements of ABV, IBUs, and provides brewers with an exact count of fermentable sugars; Ultimately it contributes to the consistency of the product from the time its brewed to the time it's consumed.
With over 200 breweries in Virginia, Legend has held strong, maintaining its status as Virginia's Original Brewery and as a craft beer lover's reliable choice. Dexter Brown, the breweries beloved Unicorn remains, along with the same Legendary Craft. For more information on Legend Brewing, please visit http://www.legendbrewing.com/