Legend Brewing Announces Guest Brewers for 20th Anniversary Urban Legend Series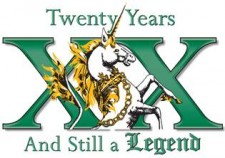 Legend Brewing Company of Richmond, VA will be turning 20 next year. They have planned out many festivities that will kick off this coming February. Stay tuned here at The Full Pint as the fun unfolds. Cheers!
Legend Brewing Company is proud to announce the guest brewers for next year's 20th anniversary Urban Legend Series.  With so many excellent brewers in the state, it was a big list to choose from but we wanted to pay a bit of homage to those guys who have been at it almost as long as we have.  It's an honor having these guys work with us and we look forward to the day they celebrate their 20th.  Next week, I will release information about the first guest Firkin Makers for our 20th on the 20th events as well as other events and hopefully a very special guest to tap the Oktoberfest firkin on Friday, September 20th to kick off the year of celebrations.
February:   Andy Rathmann, Saint George Brewing Company
April:   Geoff Logan, Williamsburg Ale Werks
July:   Mark Thompson, Starr Hill Brewing Company
October:   Favio Garcia, Lost Rhino Brewing Company
Skál
R. David Gott
Vice President Operations
Legend Brewing Company