Left Hand Homefront IPA Returns for 2nd Year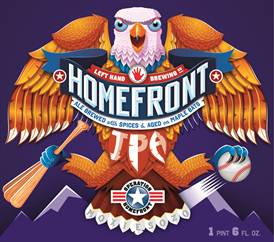 (LONGMONT, CO) – Left Hand Brewing Company is proud to announce the 2nd annual release of Homefront IPA, just in time for summer 2014! The American IPA is a collaborative beer produced by nine U.S. breweries to raise money & awareness for Operation Homefront, a national non-profit providing emergency assistance to military families and wounded warriors. Homefront IPA will be sold nationally with all proceeds from beer sales going to local OH field offices.
Originally developed in 2011 by Fremont Brewing Co. and Center of the Universe Brewing Co., Homefront IPA will be released by 11 total breweries this year: Left Hand Brewing Co., Cigar City, Perennial Artisan Ales, Sly Fox, Saint  Arnold, 21st Amendment, Palmetto, Maui and Stone. The American IPA is aged on Louisville Slugger maple bats and infused with orange zest. Biscuit, honey, and grapefruit pith notes will play on your tongue, followed by a memorable dry, bitter finish. The Left Hand edition of Homefront IPA could not be possible without a variety of donors: Hops Direct (hops), Cargill (malt), OI and Tricor Braun (bottles), DWS (labels), and Moxie Sozo (label design). Left Hand is the only participating Colorado brewery and will contribute 56 barrels to be sold in 22oz bottles and on draft.
In 2013, Left Hand raised $18,148 for the Operation Homefront Rocky Mountains Office. Left Hand Brewing Co. is proud to express our gratitude and give back to our service members who put the needs of our nation before their own. Salute our service men & women with a pint of Homefront IPA this May!
###
More about Homefront IPA:
Style: American IPA
ABV: 6.6%
IBU: 63
Malt: 2 Row Pale, Aromatic and Light Crystal
Hops: Chinook and Cascade
Other: Dried sweet orange peel, fresh orange zest, and Louisville slugger maple baseball bats
Pkg: 22oz bombers & kegs
About Left Hand Brewing Company
Celebrating twenty years of brewing a well-balanced portfolio of craft beers, Left Hand Brewing Company is located at 1265 Boston Avenue in Longmont, Colorado. Left Hand is one of the most honored and recognized breweries in the state, with over 21 Great American Beer Festival medals, 9 World Beer Cup awards, and 6 European Beer Star awards. Famous for their Nitro series, Left Hand Brewery is also the first and currently the only craft brewery to release a bottled Nitrogen beer. Left Hand's collection of perennial and seasonal beers are available in 27 states. "Sometimes you're not in the mood for what everyone else is having."
Distribution: AZ, NM, CO, WA, TX, OK, KS, MO, KY, IN, OH, WI, MI, IL, MN, NC, SC, TN, NJ, PA, VA, MA, NY, AL, FL, GA, MD, DC
About Operation Homefront
A national nonprofit, Operation Homefront leads more than 2,500 volunteers with nationwide presence who provide emergency and other financial assistance to the families of service members and wounded warriors. Operation Homefront has provided assistance to thousands of military families since its inception in 2002. Recognized for superior performance by leading independent charity watchdog groups, nationally, 93 percent of total donations to Operation Homefront go directly to programs that provide support to our military families. For more information, go to www.OperationHomefront.net.