Lazy Magnolia Releases Gulf Porter Growlers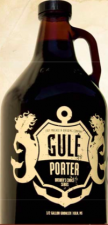 To celebrate our 5th anniversary of brewing in Mississippi, Lazy Magnolia Brewing Company of Kiln is pleased to announce the release of Gulf Porter, the first in Lazy Magnolia's Brewer's Choice Series. You'll find Gulf Porter in 1⁄2 gallon growlers, in the shape of old time whiskey jugs, commemorating the rich brewing heritage of the South.

Gulf Porter is brewed with specially selected malts, oats and hops. Our special strain of yeast adds a unique spicy note to compliment the rich complexity and smooth character of this creation from Mississippi's Brewery. With warm notes of toffee and caramel, this porter is sure to spark a lively discussion on the finer points of Southern Living.
Gulf Porter growlers will be available throughout Mississippi and Louisiana, as well as select markets in Tennessee. For information regarding where to purchase Gulf Porter growlers in your area, please contact Lazy Magnolia Brewing Company at [email protected] or see our web page www.lazymagnolia.com.