Land-Grant Brewing Holds Fest, Brings Back Favorites for 8th Anniversary
(COLUMBUS, OH) – In celebration of their eighth anniversary, Land-Grant Brewing Company is throwing an all-day festival on Saturday, October 1 in their Beer Garden, Taproom and Brewing Facility in the East Franklinton neighborhood of Columbus, Ohio.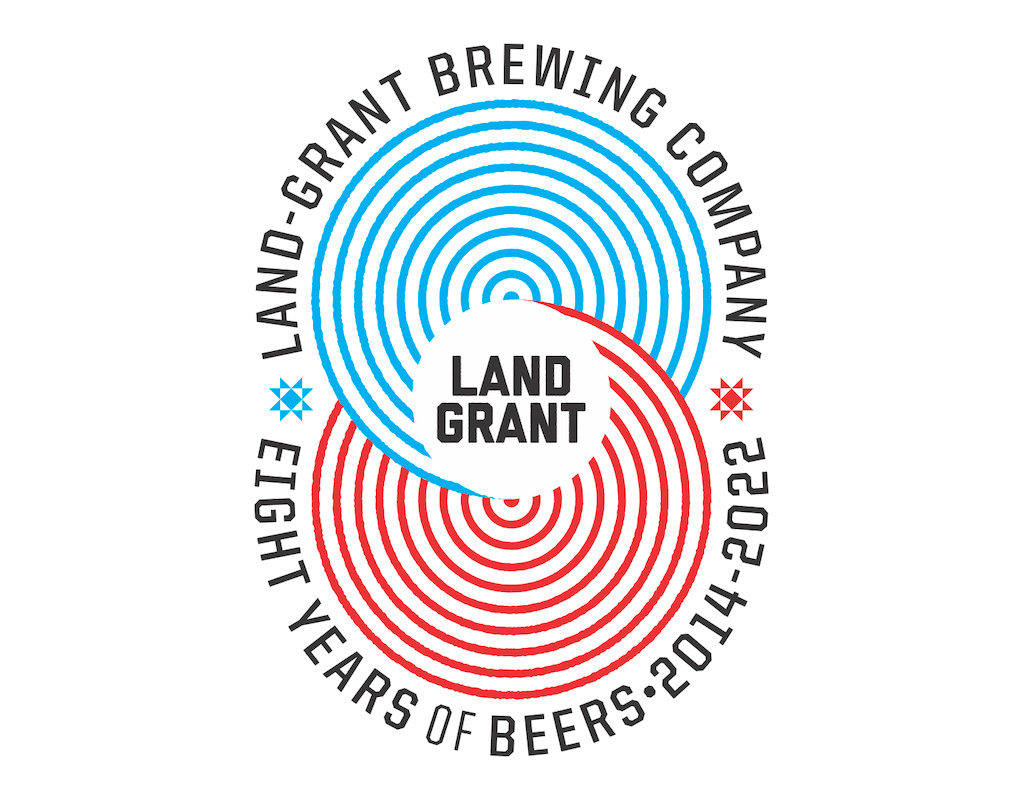 "The anniversary party is my favorite day of the year at the brewery," said Land-Grant Co-Founder and President, Adam Benner. "It is the culmination of all the hard work that has gone into the past year, and the opportunity to celebrate with the staff, family, friends, and the community that has supported us over the past 8 years. It is also one of the rare opportunities we get to take a step back and realize how far we have come along the way."
Land-Grant also revealed plans to celebrate with the forthcoming release of a taproom-exclusive Throwback Six-Pack, featuring an extremely limited return of six classic Land-Grant beers from the archive. The variety pack ($14) will include 1862 Ale Dry-Hopped Kölsch, Son Of A Mudder American Brown Ale, Urban Sombrero Mexican Lager, Concentrate Hazy IPA, Sour Hoppy Fun Time Dry-Hopped Sour Ale, and Batch 300 Double IPA.
"Our brew team took a look back through the archives, and selected six legacy-edition recipes to brew up and bring back for a very limited release as part of the celebration," Benner said. "Once we locked in the line-up, we knew folks would be excited to see several of their classic favorites back in the mix, and decided a variety pack was the way to go."
These six returning beers will not only be available in the variety six-packs for carryout, but also will be available on draft in extremely limited quantities during the anniversary party. Land-Grant plans to release a comprehensive list of additional beers – including new releases and a variety of "one day only" beers – that will be available at the anniversary celebration alongside these classic recipes in the week leading up to the event.
Doors to the LG8 Anniversary Party will open at 11:00 a.m., as the live music festivities kick off with family friendly performances by kid's rock-and-roll band, The Shazzbots, starting at noon. The rest of the day's music line up includes The Dead Revival Band, Inner City Blues Band, Parker Louis & Friends, and The Freshest Events' All Are Welcome DJ series, headlined by DJ O Sharp.
In addition to the live music and exclusive beer releases, the anniversary party will include free brewery tours occurring hourly from noon-3:00 p.m., live screen printing from Upright Press, and watch parties on the Beer Garden big screen for both Ohio State vs. Rutgers (3:30 p.m.) and Columbus Crew vs. NY Red Bulls (7:30 p.m.). Food trucks include Land-Grant's resident offerings – Ray Ray's Hog Pit, Mikey's Late Night Slice, Dodo Donuts – alongside Tortilla Street Food & Two Fatt Indians.
Land-Grant's eighth anniversary event is free and family-friendly until 8 p.m., after which guests must be 21 years of age or older. For additional information, please visit: landgrantbrewing.com/LG8.
###