Land-Grant Brewing Celebrates 7th Anniversary With All Day Celebration
(COLUMBUS, OHIO) – The Land-Grant Brewing Company is excited to celebrate their seventh anniversary with an all-day celebration of great beer, live music and community on Saturday, September 25 in the Beer Garden, Taproom and Brewing Facility in the East Franklinton neighborhood of Columbus, Ohio.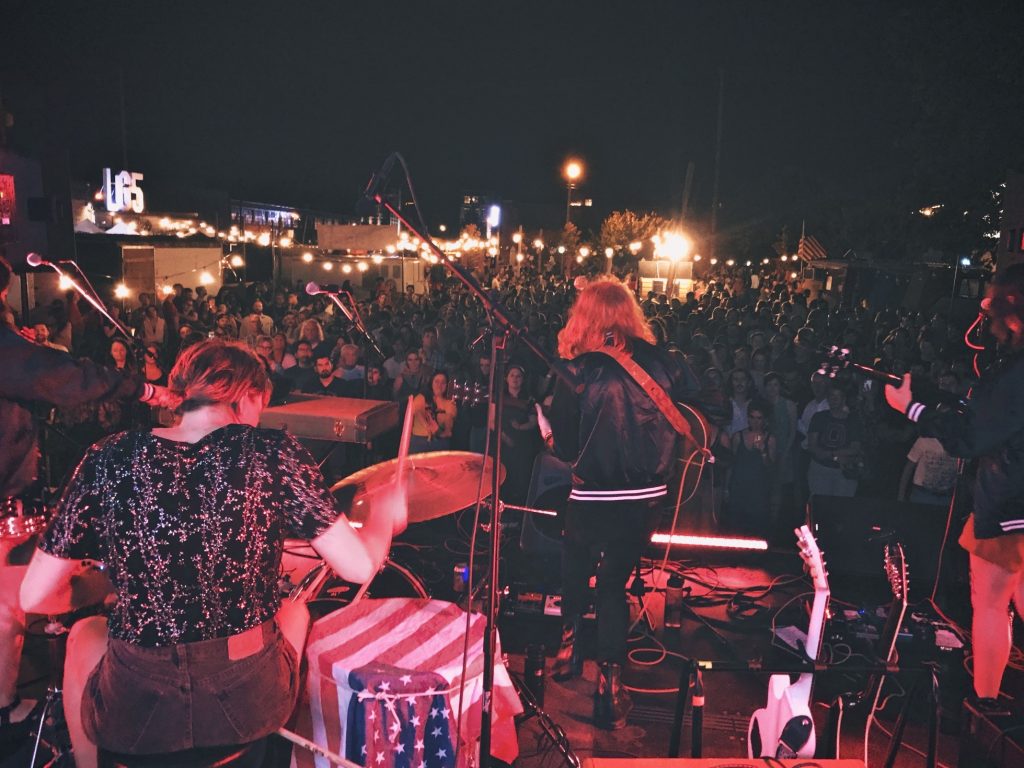 "These anniversary occasions are our favorite days at the brewery, as they are a time to celebrate the past year with our customers, staff, and families," said Land-Grant President and Co-Founder Adam Benner. "The past two years have been difficult for so many of us, and we feel fortunate to host a safe event where we can all celebrate both the challenges and the successes that the pandemic has brought us."
The day will begin at 10 a.m. with an outdoor private, ticketed tasting of Land-Grant's Batch 1000 Imperial Stout variations. Brewed back in May as Land-Grant's 1000th batch of beer, their brew team created an extra special (and strong!) imperial stout with their Seventh Anniversary in mind. The stout's recipe was developed to be versatile enough for each brewer to put their own spin on it, resulting in four delicious and very different varieties, including Baklava, Chile, Smoked Maple and Neapolitan. The tasting will include select Buckeye Donuts to pair with each Batch 1000 varietal, as well as commemorative anniversary glassware and first access to purchase the limited edition mixed four-packs.
Land-Grant will open to the public at 11 a.m., at which time they will be tapping several new releases, a few old favorites and a variety of "one day only" beers. A not-quite-complete list of beers is available at the event website (landgrantbrewing.com/LG7), with several more limited-release beers to be added to the lineup in the next week.
In addition to the wide variety of specialty beer to be released at the event, the anniversary party will also include live music from several local acts on Land-Grant's outdoor Beer Garden stage, including DJ Bohno, Red Healer, Campbell, Joey Aich and Mojoflo. Free brewery tours will occur hourly from 2:00-6:00 p.m. and the evening will also include watch parties for the Ohio State and Columbus Crew games.
Aside from the ticketed morning tasting, this seventh anniversary event is free and family-friendly until 8 p.m., after which guests must be 21 years of age or older. For additional information, please visit landgrantbrewing.com/LG7.
###
ABOUT LAND-GRANT
Land-Grant Brewing Company, an award-winning production craft brewery in Columbus, Ohio, was born from a passion for painstakingly-crafted beer, powerful design and a devotion to creating an inclusive and welcoming craft beer culture. Land-Grant is defined by their dedication to the craft of producing quality craft beer and their commitment to the betterment of the Columbus community. Beer lovers can enjoy Land-Grant craft beer at the Franklinton Taproom & Beer Garden at 424 W. Town Street, or pick up a six-pack at a variety of grocery stores or beer distributors throughout Central Ohio. Connect with Land-Grant on Instagram, Facebook and Twitter. For more information, please visit http://www.landgrantbrewing.com.