Lakewood Brewing Celebrates Second Year with Lion's Share II
(DALLAS,TX) – Two years ago on August 4, Lakewood Brewing Company sold its very first keg of beer. Thousands of barrels produced later, Lakewood will celebrate its two amazing years with a special release of its second anniversary ale Lion's Share II, a wine barrel-aged Berliner Weisse with black currants.
The beer will make its first debut on tap at the Lakewood Brewing Company Second Anniversary Bash at Goodfriend Beer Garden and Burger House, 1154 Peavy Road, Dallas, on August 3, 2014 from 11:00 a.m. until closing. Distribution to bars and restaurants will begin on August 4, 2014, and will be draft only.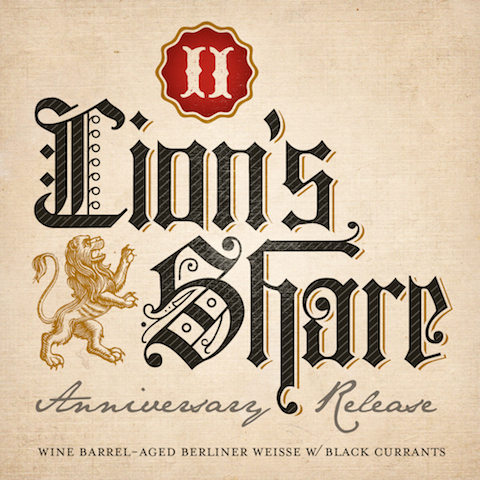 "Each year brings its own unique experiences, so every year our anniversary beer will have its own unique style," said Wim Bens, founder of Lakewood Brewing Company. "This year we wanted to explore the nuances and beauty that come from barrel-aging beer, but with a session style that's very light. With our anniversary being in early August, we wanted to create a beer that's thirst quenching and drinkable with the warmer weather, yet still has character and depth."
Tart, acidic, and light-bodied, this slightly sour German wheat beer has steadily gained popularity in the U.S. Initially brewed as a traditional Berliner Weisse, Lion's Share II was then re-fermented with black currants in recently emptied chardonnay, merlot, and cabernet barrels sourced from Napa Valley. Black currants have been used for centuries in Belgian brewing, but are rarely seen in American beers.
Bens added, "After spending roughly two months in the barrels, we then blended it back with a fresh batch of the Berliner Weisse, giving us a truly unique beer that definitely embodies the spirit behind a great year and is perfect for an anniversary party unlike any other.
Much like the craft beer industry itself, Lakewood has experienced explosive growth over the past two years. In April, it made the strategic decision to turn over distribution responsibilities to Andrews Distributing Company. The deal has helped Lakewood to expand the brewery's reach and brand by harnessing the power of the Andrews marketing expertise and distributor relationships.
With the ability to focus on the core business and, of course, a deep passion for producing quality, unique beers for DFW, Lakewood Brewing Company is now finalizing plans to expand the brewery facility. With a goal of completion in early 2015, the brewery is working on a 14,000 square-foot expansion that will enable production up to 100,000 barrels. Included in the expansion plan is a brand new tap room to be twice the size of the existing tap room and including a 30-foot-long bar.
"Our goal with the expansion is to ensure that we are well equipped to serve the DFW market as demand continues to grow," said Bens. "Although the expansion reflects our long term goals to possibly expand the Lakewood brand beyond the area, our first priority is to continue serving our friends and neighbors all around DFW."
Going All Out for Lakewood Brewing Company's Second Anniversary Bash on August 3
For the second year in a row, Goodfriend Beer Garden and Burger House, 1154 Peavy Road, Dallas, will host Lakewood's anniversary bash. After the amazing turnout last year, the set up this year adds a 40' x 60' air-conditioned tent outside the front patio with a beer garden atmosphere—plus 18 taps of Lakewood beer deliciousness
In addition to AC, the tent will be well-equipped for hours of enjoyment. With a total of 18 taps plus one cask, the event will include the special anniversary Lion's Share II, Lakewood's year-round brews, plus a long list of special batch beers:
Taps:
Lion's Share II: Anniversary Ale: wine barrel-aged Berliner Weisse w/ black currants (making its debut at this event)
Bourbon Barrel Temptress
The Temptress
Temptress Nitro
Lakewood Lager
Hop Trapp
Rock Ryder
Zomer Pils
Bourbon Barrel-aged Punkel
Red Wine Till & Toil
La Dame du Bois (Red Wine La Dame du Lac)
Antigoon's Revenge
Brabo's Reserve (Red Wine Brabo's Cut)
Esteban: Tequila Barrel-aged Lakewood Lager
Francisco: Tequila Barrel-aged Lakewood Lager w/ Ancho chili
Magdalena: Tequila Barrel-aged La Dame du Lac
Mole Temptress on Randall w/ chili peppers
Cask – Lemon Ginger Rock Ryder
The day-long party will also include a limited supply of commemorative glassware (available while supplies last) plus custom screen printed shirts provided by Printed Threads available for purchase—choose from one of two unique designs and have it printed onsite. 20 percent of the proceeds from all purchased shirts will go directly to the Human Rights Initiative of North Texas.
Of course, no party would be complete without some great live music. Entertainment will include: Andrew Delaney and The Horse You Rode In On; Foxtrot Uniform; Hazardous Dukes; and Shotgun Friday. See you there!
About Lakewood Brewing Company
Lakewood Brewing Company produces internationally inspired, locally crafted beers. Its diverse varieties include year-round, seasonal, and Legendary small-batch brews. Lakewood beers are available throughout the Dallas-Fort Worth area in discerning bars, restaurants, and select retailers. For locations and more information, please visit lakewoodbrewing.com.