L.A. Beer Week 2019 Tap List Revealed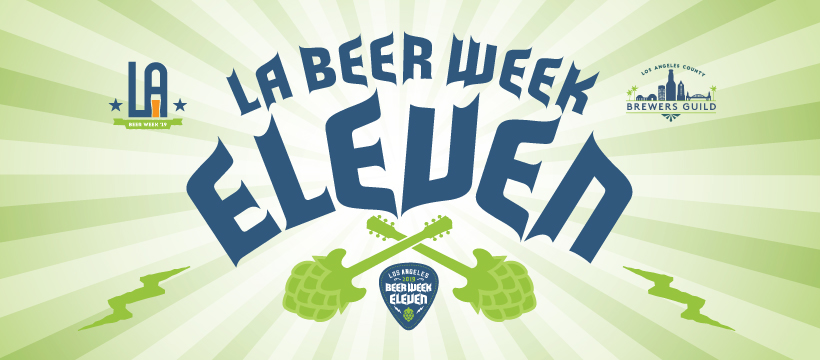 We're just days away until the 11th Annual L.A. Beer Week Kickoff Festival happening in the heart of downtown Los Angeles on Saturday, June 15, 2019. The Full Pint team have been supporters of L.A. Beer Week since its earliest days and (full-disclosure), with our own Franny Fullpint writing about herself in the third person again while producing this year's event, we are happy to be media sponsors this year to support our friends at the Los Angeles County Brewers Guild and bring you this epic tap list.
The Saturday, June 15th Kickoff event will feature 91 independent craft breweries; 73 of which are Los Angeles County Brewers Guild members plus a special group of breweries outside of L.A. who were invited to be part of the event due to their commitment and contributions to the independent craft beer landscape. The event marks 11 years since L.A. Beer Week's original founders including Jay Baum, Brandon Bradford, Dennis Hartman, and Ryan Sweeney, started L.A. Beer Week as a way to elevate beer culture in L.A. Inheriting beer week in 2014, this year mark's the Guild's 6th year producing the event which has grown from its humble Descanso Gardens roots to one of the biggest celebrations of craft in L.A. When we think about how L.A. Beer Week used to take place in the Union Station courtyard…it amazes us how much our craft brewing community in L.A. has grown. Let's toast to that!
We hope that you will consider joining us this weekend for unlimited tastings of over 275 unique beers, games, food trucks, food vendors, and live music from The Firkins (our favorite drinking band), and of course, the return of the L.A. Brewers Supergroup featuring Jeremy Raub (Eagle Rock Brewery),Chris Gonzales (Three Weavers), Bennett Erickson and Andrew Von Ah (Sunset Beer Company), and Julian Shrago (Beachwood Brewing). So what are you waiting for? Only a couple days left to grab those Kickoff Festival tickets!
[themify_button bgcolor="blue" size="large" nofollow="no" link="http://www.labeerweek2019.eventbrite.com" target="new"]June 15th Kickoff Tickets[/themify_button]
And now for the good stuff —
2019 L.A. Beer Week Tap List
| | |
| --- | --- |
| 101 Cider House | Cactus Rose Cider |
| 101 Cider House | IPC (India Pale Cider) |
| 14 Cannons | Catorce – Mexican Lager |
| 14 Cannons | Reaching Sail – Red IPA |
| 14 Cannons | Tyrannicide IPA |
| 818 Brewing | 1st Stage IPA |
| 818 Brewing | Cu in Vienna |
| 818 Brewing | Scorched Earth Black IPA |
| 818 Brewing | Valley Girl Blonde |
| Absolution Brewing | TBD |
| Alosta Brewing | Cream Tangerine – Cream Ale with Tangerines |
| Alosta Brewing | Hazebangers Ball NEIPA |
| Alosta Brewing | Let's Take This Outside – Light Lager w/Elderberry (Collaboration with ERBC) |
| Ambitious Ales | Central Perk – Blonde with Guatemalan Coffee and Vanilla Beans. – 4.6% ABV |
| Ambitious Ales | Mangoes – Gose with Sea Salt, Coriander and Mango Puree – 3.8% ABV |
| Ambitious Ales | Uni-Dos – DIPA brewed exclusively for LA Beer Week, featuring Idaho 7, Motueka and Amarillo Hops. 8.3% ABV |
| Angel City Brewery | Barreljuice, Barreljuice, Barreljuice |
| Angel City Brewery | California Commmon |
| Angel City Brewery | Cold Brewski |
| Angel City Brewery | Double IPA |
| Angel City Brewery | Fuzzy Nelson |
| Angel City Brewery | IPA |
| Angel City Brewery | LGBTQ Pride |
| Angel City Brewery | Mattole River |
| Angel City Brewery | Nothing at All 2018 |
| Angel City Brewery | Nothing at All 2019 |
| Angel City Brewery | Pilsner |
| Angel City Brewery | Rye.9 Bottles |
| Angel City Brewery | Srirachelada |
| Angel City Brewery | Stoned Fruit |
| Angel City Brewery | Strawberry Gose |
| Angel City Brewery | Sunbather |
| Angry Horse Brewing | Gettin' Warmer – American Stout |
| Angry Horse Brewing | Pina – Milkshake IPA |
| Angry Horse Brewing | Rye Me a River – Belgian Rye Saison |
| Angry Horse Brewing | Take Me to Paradise – Double Hazy IPA |
| Arrow Lodge Brewing | Buds Best – West Coast IPA 7% |
| Arrow Lodge Brewing | Chanclaso – Mexican Lager 4.8% |
| Arrow Lodge Brewing | Fruited Berliner Weisse TBD |
| Arrow Lodge Brewing | Hush $ – Double Hazy IPA 8% |
| Arrow Lodge Brewing – Special Tappings | Campgrounds – hazelnut, coffee & vanilla pasty stout |
| Arrow Lodge Brewing – Special Tappings | Cut Loose – Double Hazy IPA 8 % (Amy & Zach Collab) |
| Arrow Lodge Brewing – VIP Hour | Stouts Honor(Barrel Aged Vanilla Stout) |
| Arts District Brewing | TBD |
| Beachwood Blendery | Careful with that Aprium, Eugene – Belgian Style Sour with Apriums |
| Beachwood Blendery | Come in Grape Your Time is Up: Muscat – Belgian Style Sour with Muscat grapes |
| Beachwood Brewing | Hayabusa – Lager |
| Beachwood Brewing | O.G.L.A.I.P.A – West Coast-Style IPA Collab with Smog City |
| Beachwood Brewing | Set Phasers to Pun – Dry-Hopped Belgian-style blonde ale collab with Drake's |
| Bluebird Brasserie | TBD |
| Boomtown Brewery | TBD |
| Border X Brewing | TBD |
| Bravery Brewing | TBD |
| Brewery at Simmzy's | 2nd Anny IPA |
| Brewery at Simmzy's | Crystal Cove Cream Ale |
| Brewery at Simmzy's | Simmzys Porter |
| Brewery at Simmzy's | Tips up! IPA |
| Brewery at Simmzy's – VIP Hour | Helles Lager |
| Brewery at Simmzy's – VIP Hour | Scattered Peaks IPA |
| Brewery Draconum | Melonkölschy |
| Brewery Draconum | Pinky + the Grain, a West Coast IPA. |
| Brewyard Beer Company | Imposter Syndrome – Westcoast Hoppy Lager |
| Brewyard Beer Company | Marooned at Sea – Hibiscus Gose (Sour Ale) |
| Brouwerij West | 8.5 IPA Azacca – 100% Single Hop Hazy IPA w/ Azacca hops |
| Brouwerij West | Flying Beasts – Dry Hopped Pilsner (Motueka and Mandarina Bavaria hops) Collab w/ Highland Park Brewery and Mumford Brewing. 5.5% abv |
| Brouwerij West | Strange Beautiful – Berliner Weisse w/ Lemon, Lime, and Cucumber. 4% abv |
| Burnin' Daylight Brewing | TBD |
| Cellador Ales | TBD |
| Cellarmaker Brewing | Assorted bottle pours of BA fruited sours and Pastry Program #3 |
| Cellarmaker Brewing | Galaxy Blaster IPA |
| Cellarmaker Brewing | Little Dipster Helles Lager |
| Cellarmaker Brewing | Tiny Dankster Pale Ale |
| Central Coast Brewing | Friends with Benefits: Kveik IPA collaboration with Ryan Fields from Wild Fields Brewhouse |
| Central Coast Brewing | Golden Glow: Helles lager |
| Central Coast Brewing | Moonbuggy: Hazy double IPA |
| Central Coast Brewing | Pastry Party: Pastry stout with toasted and raw coconut and madagascar vanilla beans |
| Chapman Crafted | Buck Yeah! – Smog City Collab Beer- Buckwheat Pale Ale |
| Chapman Crafted | Chapman Crafted Pils- Pilsner |
| Chapman Crafted | Super Villian Nanobots- Unfiltered DIPA |
| Chapman Crafted | Venti Triple Pump(Nitro) – Imperial Blonde with Coffee and Vanilla |
| Claremont Craft Ales | 35 Miles NE, Hazy IPA with Mosaic and Citra, 7.0% ABV |
| Claremont Craft Ales | Buddy, Black Rye IPA, 7.5% ABV |
| Claremont Craft Ales | Claremont IPA, West Coast IPA with Citra, 6.7% ABV |
| Claremont Craft Ales | Happy Days, Imperial Red Ale, 9.5% ABV |
| Claremont Craft Ales | Jacaranda, Rye IPA, 6.7% ABV |
| Claremont Craft Ales | Moultrie Light, Light American Lager, 3.7% ABV |
| Claremont Craft Ales | Oxford, Bourbon Barrel Aged Imperial Stout with Chocolate and Cinnamon, 13% ABV |
| Claremont Craft Ales | Unity, Double IPA, 8.5% ABV |
| Claremont Craft Ales | Yuzu Dry, super dry blonde ale with yuzu juice, 6.0% ABV |
| Common Space Brewery | TBD |
| Drake's Brewing | Brawndo = Lemon & Lime Gose Sour Ale – 5.6% |
| Drake's Brewing | Brightside = Brut IPA – 7.0% |
| Drake's Brewing | Flyway = Pils 4.3% |
| Drake's Brewing | Hopocalypse White label = Hazy Double IPA – 8.4% |
| Dry River Brewing | TBD |
| Eagle Rock Brewery | Old Dog New Tricks (Collab with El Segundo: Dry-Hopped Pilsner) 5.2% abv |
| Eagle Rock Brewery | Schaner's Gold (Collab with Schaner Family Farms: Hazy Pale Ale with Citrus) 5.2% abv |
| Eagle Rock Brewery | Stimulus 03 (Hazy DIPA with Portola Coffee) 8% abv |
| El Segundo Brewing Co. | Ballpark Blonde |
| El Segundo Brewing Co. | Caza Azul Amber Lager |
| El Segundo Brewing Co. | Citra Pale Ale |
| El Segundo Brewing Co. | Mayberry IPA |
| El Segundo Brewing Co. | New Tricks, Old Dog IPA brewed with Eagle Rock Brewery |
| El Segundo Brewing Co. | Surfin' Bird DIPA |
| El Segundo Brewing Co. | The Independent IPA |
| El Segundo Brewing Co. – 2pm Special Tap | 2018 Old Jetty Barrel Aged Barleywine |
| Enegren Brewing | Edel Pils German Style Pilsner |
| Enegren Brewing | Nighthawk Schwarzbier |
| Enegren Brewing | Rasenmäher-Bier Crystal Wheat Lager |
| Enegren Brewing | The Big Meat Smoked Bock |
| Enegren Brewing – Special tap at 2pm | Zwickelbier |
| Figueroa Mountain Brewing Co. | Drip Alert IPA |
| Figueroa Mountain Brewing Co. | Locals Only LA – LemonGrass Skirt |
| Figueroa Mountain Brewing Co. | Point Conception IPA |
| Figueroa Mountain Brewing Co. | Summerland Citrus Blonde |
| Firestone Walker Brewing Co. | Brains on the Table, American Wild Ale |
| Firestone Walker Brewing Co. | Los Leñadores, Brown Ale |
| Firestone Walker Brewing Co. | Luponic Distortion, IPA |
| Firestone Walker Brewing Co. | Mind Haze, Hazy IPA |
| Firestone Walker Brewing Co. | Rosalie, Beer and Wine Hybrid |
| Firestone Walker Brewing Co. | Welcome to LA, IPL |
| Five Threads Brewing | TBD |
| Frogtown Brewery | Spritzerweisse Frogtown Brewery • Sour – Tart Cherry Berliner Weisse • 3.3% ABV |
| Frogtown Brewery | Whipple Street Frogtown Brewery • Vanilla Cream Ale • 5.1% ABV |
| Green Cheek Beer Company | Bier – Helles-style Lager 5.2% ABV |
| Green Cheek Beer Company | Happily Deceased – West Coast IPA 7.3% ABV |
| Green Cheek Beer Company | Short on Long Term Goals – Italian-style Pils (Firestone Collaboration) 5.2% ABV |
| Green Cheek Beer Company | Swim Test – Hazy TIPA 10.2% ABV |
| Hand-Brewed Beer | Castle Peak Pale Ale |
| Hand-Brewed Beer | Honey Hand Blonde Ale |
| Hand-Brewed Beer | Rocky Peak IPA |
| Highland Park Brewery | Collective Blend #2: Masumoto Peach – Barrel aged blended sour with Masumoto peaches; 5.5% ABV |
| Highland Park Brewery | Hoppy Lager (Name TBD) – NZ Cascade & Nelson hops; 5.8% ABV |
| Highland Park Brewery | No Rest – Imperial Stout w/coconut, vanilla, & cedar. Brewed in collaboration with Three Chiefs Brewing; 12% ABV |
| Highland Park Brewery | No Stress – Hazy DIPA; Citra, Motueka, & Vic Secret Hops; 8% ABV |
| Highpoint Brewing | TBD |
| HopSaint Brewing | TBD |
| Hunters Point | Helles to the Chief |
| Hunters Point | Pride Pils |
| Hunters Point | SIP-1 IPA |
| Hunters Point | Worry, But Be Happy Double IPA |
| Imperial Western | "Superchief" IPA, 6.8%abv. |
| Imperial Western | "Travel Bug" Gose, 4%abv |
| Indie Brewing | TBD |
| Innovation Brew Works | Befuddled |
| Innovation Brew Works | Cattle Rancher |
| Innovation Brew Works | Celebration Ale |
| Institution Ale Co. | 2019 Summer Seasonal – Session IPA, 5.2% |
| Institution Ale Co. | Clarity – Dry Hopped Golden Ale, 4.7% |
| Institution Ale Co. | Rx Pils – German-style Pilsner, 5.2% |
| Institution Ale Co. | Scale The Walls – IPA, 7.6% |
| Iron Triangle Brewing | Cereal Milk – Blonde Milk Stout |
| Iron Triangle Brewing | India Kale Ale – IPA with Kale |
| Iron Triangle Brewing | Live by Night – Imperial Brown Ale |
| Karl Strauss Brewing Co. | Boat Shoes Hazy IPA- 7.2% |
| Karl Strauss Brewing Co. | Follow the Sun Pilsner- 4.8% |
| King Harbor Brewing Co. | King Harbor Grand Cru, Flemish style red ale |
| King Harbor Brewing Co. | Tiki Hut IPA |
| King Harbor Brewing Co. | Topside Pilsner |
| Ladyface Ale Companie | Brett Blossom Bière de Mars (bbl-aged) |
| Ladyface Ale Companie | Cataclysm Imperial Oatmeal IPA |
| Ladyface Ale Companie | Dérailleur® Bière de Garde (bbl-aged) |
| Ladyface Ale Companie | Dreamer 9th Anniversary (bbl-aged) Barleywine |
| Liberation Brewing Company | Seven of Nine Nelson Pale Ale |
| Liberation Brewing Company | The Decisive Moment Kellerbier |
| Lincoln Beer Company | Double Danke DIPA, 9% |
| Lincoln Beer Company | Perfectly Pineapple Wheat Ale, 4.8% |
| Los Angeles Ale Works | TBD |
| Lucky Luke Brewing | Billie – Cantaloupe gose |
| Lucky Luke Brewing | Foreman – double IPA |
| Lucky Luke Brewing | Have U Ever – Hazy IPA |
| MacLeod Ale Brewing Co. | Better Days – Pale Ale |
| MacLeod Ale Brewing Co. | Cut and Dry – Dry Irish Stout |
| MacLeod Ale Brewing Co. | Deal with the Devil IPA |
| MacLeod Ale Brewing Co. | Lost in London – Oatmeal Stout |
| MacLeod Ale Brewing Co. | The Fixer – Vienna Lager |
| MacLeod Ale Brewing Co. | The King's Taxes – Scottish Ale |
| MacLeod Ale Brewing Co. | Van ICE – light lager |
| Modern Times Beer | Llano Del Rio – 8.1% ABV – LA BEER WEEK EXCLUSIVE! |
| Modern Times Beer | Punch House – 5.5% ABV – Gose with Apricot, Pink Guava, Blood Orange, Mango, Pineapple, Passion Fruit as well as a small amount of Hibiscus. Preview of Eat Drink Vegan Collab |
| Monkish Brewing | Experimental Space Cookie- DOUBLE IPA w/ cookies, vanilla bean, milk sugar, pineapple,strawberry, & hopped w/ Citra & Mosaic ABV 8.3% |
| Monkish Brewing | Pools On Pools- DDH DOUBLE IPA with wheat & hopped w/ Galaxy, Mosaic, Centennial ABV 8.7% |
| Monkish Brewing | Space Cookie- DOUBLE IPA with cookies, milk sugar, vanilla beans, and hops ABV 8.3% |
| Monkish Brewing | Super Fluffy Form- TRIPLE IPA brewed w/ milk sugar and zest from local Pink Lemons, & hopped with Motueka, Citra, Galaxy ABV 10.1% |
| Mt. Lowe Brewing | Glitter AF |
| Mt. Lowe Brewing | Hills Have IPA |
| Mt. Lowe Brewing | Honeyngton Hef |
| Mt. Lowe Brewing | Tears of 1,000 apricots |
| Mumford Brewing | Ante Upped – NE TIPA 10.1% |
| Mumford Brewing | C&C – Black Lager 5.1% |
| New Belgium Brewing | TBD |
| Ogopogo Brewing | 'La Llorona' Mexican Lager 4.5% |
| Ogopogo Brewing | Sharlie' Hazy IPA with Idaho 7, Mosaic, and Citra 6.9% |
| Ohana Brewing | Spa water saison 5.8% cucumber saison |
| Ohana Brewing | Surf shack Flanders 7.4% sour red ale |
| Old Stump Brewery | TBD |
| Pacific Plate Brewing Co. | All Nighter Golden Coffee Stout, collaboration with Alibi Coffee Roasters, 5.3% |
| Pacific Plate Brewing Co. | Eye of the Storm Hibiscus Wit, 5% |
| Pacific Plate Brewing Co. | Rainbow Sherbet Milkshake DIPA, 8.5% |
| Pacific Plate Brewing Co. | Shock Wave Kölsch, 5.1% |
| Pizza Port Brewing | TBD |
| Pocock Brewing | TBD |
| Port Brewing | Citra Swell |
| Sage Vegan Bistro & Brewery | Boozy Booch (alcoholic Blueberry Ginger kombucha) |
| Sage Vegan Bistro & Brewery | Olive Leaf IPA |
| Sage Vegan Bistro & Brewery | Rosewater Cream Ale |
| San Fernando Brewing Co. | O'Melveny red ale – 7.5% ABV |
| San Fernando Brewing Co. | Sonora wheat – 4.8% ABV |
| Sanctum Brewing | TBD |
| Santa Monica Brew Works | Brut 66 – Brut IPA 7.2% |
| Santa Monica Brew Works | Cookie Ninja – Pastry Stout 8.7% |
| Santa Monica Brew Works | Palisades Park – Dry Hopped Pilsner 5.2% |
| Santa Monica Brew Works | SPF 1000 – Session Hazy IPA 5.4% |
| Scholb Premium Ales | Socal Blonde |
| Scholb Premium Ales | Tall, Dank & Handsome |
| Smog City Brewing | Amarilla Gorilla IPA |
| Smog City Brewing | Bourbon O.E. |
| Smog City Brewing | Echo Echo Echo |
| Smog City Brewing | Lager Real |
| Smog City Brewing | My Tai HopT |
| Smog City Brewing | Sabre-Toothed Squirrel |
| Smog City Brewing | Tropical Farmhouse |
| Smog City Brewing | Type O Positive |
| State Brewing | TBD |
| Strand Brewing | Coffee Blonde |
| Strand Brewing | Little Bear IPA |
| Strand Brewing | Throwback Lager |
| Telco Brewery | Muck Out Stout |
| Telco Brewery | Static Haze IPA |
| Ten Mile Brewing | Hidden Hollow Kentucky Common |
| Ten Mile Brewing | Jamaican Monk Rum Barrel aged Tripel |
| Ten Mile Brewing | Plethora of Pinatas Vienna Lager |
| The Brewery at Abigaile | Big Boss Brut IPA (6.5%ABV) |
| The Brewery at Abigaile | Tropical Sour (ketlle sour with mango and guava puree, 5.8% ABV) |
| The Brewery at Abigaile – VIP Hour | Decadenza, a tiramisu imperial stout (12.3% ABV) |
| The Hop Concept | Dank & Sticky |
| The Hop Concept | Galaxy & Comet |
| The Lost Abbey | Citrus Sin |
| The Lost Abbey | Framboise de Amorosa |
| The Lost Abbey | Oude Testament |
| The Lost Abbey | Witch's Wit |
| Three Weavers Brewing | California Radler |
| Three Weavers Brewing | Day Job Pale Ale |
| Three Weavers Brewing | Galactic Magic Kveik IPA |
| Three Weavers Brewing | Knotty Double IPA |
| Three Weavers Brewing | Mocha Midnight Flight Imperial Stout |
| Three Weavers Brewing | Peach Ladybird (BBA Saison w/Brett & Peaches) |
| Three Weavers Brewing | Sun Trap Session Sour |
| Topa Topa Brewing | TBD |
| Tortugo Brewing | Kicker Rock IPA on Mai-Tai with Cherry, Coconut, Pineapple and Orange. |
| Tortugo Brewing | Westcoast Dreamin' IPA |
| Transplants Brewing | Banter: Lemon Wit 6% |
| Transplants Brewing | El Mas Guapo – IPA with guava- 7.5% |
| Transplants Brewing | Folia Arcanum- Gruit 5.5% |
| Transplants Brewing | Root Cause- Sasparilla ale 2.5% |
| Trustworthy Brewing Co. | Barrel Aged Bear Temper, Bourbon Barrel Aged Barleywine – 12.5%ABV |
| Trustworthy Brewing Co. | Showroom Ready Hazy, Hazy IPA – 7.4%ABV |
| Trustworthy Brewing Co. | T-Shirt Weather Pilsner, Hoppy Continental Lager – 4.1%ABV |
| Trustworthy Brewing Co. | Trustworthy IPA, West Coast IPA – 6.8% |
| Trustworthy Brewing Co. | Turning Two, Barrel Aged Golden Sour – 6.5%ABV (Bottle Pours) |
| Twisted Oak Tavern | TBD |
| Ventura Coast Brewing Co. | Beachscape- Hoppy Pilsner |
| Ventura Coast Brewing Co. | Resinite- IPA |
| Ventura Coast Brewing Co. – VIP Hour | Arctic Haze-Hazy IPA |
| Ventura Coast Brewing Co. – VIP Hour | Blackberry Sour- Fruited Berliner |
| Wave Maiden Ale Works | "Riser" Hibiscus Herbal Ale |
| Wingwalker Brewing | "La Jamais Contente" (The Never Satisfied) Belgian Blonde Ale |
| Wingwalker Brewing | El Jugo Hazy IPA |
| Wolf Creek Brewery | Bandit IPA |
| Wolf Creek Brewery | Belgian-Style Triple Aged in Chardonnay Barrels. |
| Wolf Creek Brewery | Howlin' Hefeweizen |
| Wolf Creek Brewery | Lone Wolf Citra IPA |
| Ximix Craft Exploration | "Helle Star" – Munich Helles Lager |
| Ximix Craft Exploration | "The Darkness within Guatemala" – Russian Imperial Stout with single Origin, Farm to Glass Guatemalan Coffee |
| Ximix Craft Exploration | Guava Party" a mixed Culture Berliner Weisse brewed with Kveik yeast and Pink Guava. (Gamecraft – HopSaint – Ximix LA Beer Week Collab) |
| Yorkshire Square Brewery | At Last the 1948 Mild – Trad Dark Mild – 4% – On Cask |
| Yorkshire Square Brewery | Cousin Alpha – American Pale Ale, 6% – On Cask |