Kuhnhenn Brewing Collaborating With Dragonmead Brewery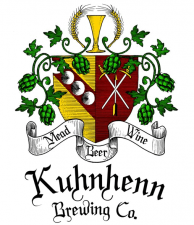 Interesting news from Kuhnhenn Brewing's Facebook page regarding this years batch of Dark Heathen Triple Bock.
Guess who showed up to brew today… Erik Harms of Dragonmead Brewery came by this morning to collaborate with Bret and Eric on this year's batch of Dark Heathen Triple Bock.

Dark Heathen is an extremely high gravity Doopelbock-hybrid style of beer; extremely malt forward with notes of rich dark fruit and baking spices with a long, lingering pleasant aftertaste. This beer is quite strong, at 12.5% ABV, and lagers for about 6 months before being packaged. Even though it's not even summer yet, we are already getting ready for Winter Solstice!