Knee Deep and Track 7 Brewing Collaborate on Knee Deep in Beer Week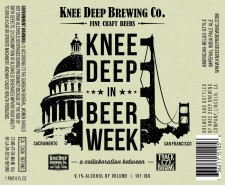 Knee Deep Brewing and Track 7 Collaborated on a Big Belgo-Double IPA in honor of Sacramento and San Franscico Beer Week 2013 this February.
We brewed a 15 bbl batch at our brewery in Lincoln two days  ago and will be brewing two 7 bbl batches at the Track 7 Brewery in Sacramento. Knee Deep's Batch will be sold in mostly 22 fl oz. bottles with very limited draft. The Track 7 batches will be all draft and will be sold exclusively through Mussetter Distributing. There will only be 20 x 1/2 bbl kegs released outside the brewery. Most of the draft will be exclusive to participating beer week locations.
As of today, the beer (bottles) will be available at only Bev Mo in Northern California, but that could change.  This is one of those beers you will hear about, so make sure you find it while you can.