Kern River Citra Double IPA Winter 2014 Release Details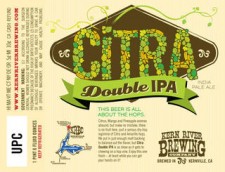 (Kernville,CA) It's that time again; Citra is in the largest fermenter we own, bottles are in the warehouse and the labels are ready to go.  Than means it is time for the Citra show.  We plan to release bottles from February 21st to March 2nd; 160 cases for 320 lucky lottery winners.  The lottery, rules, registration, caveats and poor attempts at humor can be found here:
Notice: Due to required questionnaire questions during registration, tickets buyers will not be able to place orders from their mobile devices.
We are holding another lottery for the purchase of bottles of Citra Double IPA.  This event is just like the last one except that you are entering the lottery for a six-pack of 22 oz bottles (long story, but it will save you money on BPT fees and 99% of people buy six-packs anyway).   This lottery event is an internet only event, you don't have to show up at KRBC to qualify for the lottery.
You will have to provide your  full name, e-mail address and Drivers License number when you join this event to be eligible for the drawing.
Please read the following rules.  Please play fair.
1. Only one entry per person.  If we find more than one entry for a registrant they will be disqualified from the drawing.
2. Do not enter if you are not going to purchase your allotted bottles and pick them up in person.  This means that you should not get your friends, second cousins, landlords, or former t-ball teammates to register in the the hopes that one of you will win.  They will end up hating you because they will have to make the drive to Kernville to pick up the bottles themselves.  More likely they won't agree to it and we will have to figure out what to do with the bottles they decide not to buy.  We will probably just drink them and you will end up shafting someone else in the lottery, maybe even yourself…
3. You have until Sunday, February 9th to join the lottery event
4. If your name is randomly selected in the lottery, you will be notified by e-mail and given further details on how to join the Brown Paper Ticket (BPT) Citra bottle purchase event.
5. You will have from Friday, February 14th, until Tuesday, February 18th to buy your Citra bottles on BPT.  You must purchase your bottles during this time frame or you will forfeit your chance to purchase bottles.
6. You will have from Friday, February 21st until Sunday, March 2nd to pick your bottles up at KRBC in Kernville.
7. If you do not pick up your bottles during these dates, you will forfeit your bottles and NO REFUND will be given.  So please make sure you can make the drive to Kernville during this timeframe before you enter the lottery event.
8. You must present your I.D. to pick up your bottles
9. Your I.D. must match the name you have submitted in the lottery
10. We will not hold bottles for you past March 2nd.
Again, these rules are pretty simple, and if you are wondering if there is a way around them, the answer is probably no.  So please, no phone calls asking "hey, can my buddy come pick up my Citra bottles for me?" or "I can't make it to Kernville during that 10-day period but decided to register anyway, can you ship to London?"
Oh, by the way.  Bottles are $7 + CRV + Tax + BPT Charge.  The BPT Charge is 3.5% + $0.99.  That means somewhere north of $48 for a six pack of 22 oz bottles.
With all that out of the way, good luck!
p.s. KRBC reserves the right to alter or cancel the lottery or sale of Citra bottles without notice due to acts or nature, machine, persona non grata or any other reason we deem necessary.
http://www.brownpapertickets.com/event/571900
Please read all of these rules carefully before asking any questions via phone, e-mail or in person; most anything you need to know is already there.
Cheers,
The Crew,
Kern River Brewing Company