Karl Strauss Wins Gold And Silver At 2012 World Beer Cup
Karl Strauss takes home World Beer Cup Gold For Red Trolley Ale and Silver For Two Tortugas Belgian Quad.
San Diego, CA – San Diego hosted the ninth bi-annual World Beer Cup ® 2 weeks ago in conjunction with the Craft Brewer's Conference. The conference brings together brewers from around the world with 4,500 attendees.  The competition is highly regarded and considered the largest international gathering of beers with more than 3,921 entries from 799 breweries across 54 countries and 45 U.S. states. Karl Strauss took home a Gold medal for its Red Trolley Ale and a Silver medal for its Two Tortugas Belgian Quad. "We are very proud of these two medals and we know what an honor it is to win when there's so much great competition," says Paul Segura, Karl Strauss Brewmaster.
Karl Strauss' Red Trolley Ale won a Gold medal in the Irish-Style Red Ale category, beating out entries from across the globe. "Red Trolley is on fire right now!" says Segura. "We've been brewing this beer for 23 years, it's our best-seller, and it keeps dominating in competitions."  The beer also took home a Gold medal at the 2010 World Beer Cup as well as the 2010 Great American Beer Festival®.  Red Trolley Ale is one of only 7 beers in the world out of more than 7,250 beers entered into competition in the last two World Beer Cups to have won a gold medal in each.  Overall sales of Red Trolley have increased by 36% since its first big win in 2010.
Two Tortugas, the company's 2011 limited-release Holiday Ale, took home a Silver medal in the Belgian-Style Dark Strong Ale category. The company sold through the original release of Two Tortugas in record time, partly due to the fact that the beer also won a Bronze medal at the 2011 Great American Beer Festival.  "Our fans raved about this beer and now that we've medaled at World Beer Cup and Great American Beer Festival, we may have to bring it back," says Segura.  He goes on to say, "While it is hard to find Two Tortugas now, we are already working on the third installment of our '12 Days of Christmas' holiday series, so look for that this Fall."
211 judges from 27 countries conducted blind-tastings over three days to determine the world-class examples of 95 different style categories.  Overall, San Diego brewers took home medals in 16 of the 95 categories, including 5 Gold's, 3 Silver's, and 8 Bronze's. "These medals validate all of the hard work we put into brewing great beers and they help elevate San Diego as one of the great beer destinations," says Segura. For more information on Karl Strauss' award-winning beers, visit www.karlstrauss.com. Share it, cheers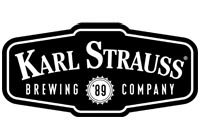 About Karl Strauss Brewing Company: Since 1989, Karl Strauss Brewing Company has pioneered the local beer scene in San Diego. 23 years later, the company continues to brew an innovative line-up of award-winning beers ranging from longtime favorites like Red Trolley Ale to new releases like Wreck Alley Imperial Stout. In 2011, the company brewed 40,000 barrels and ranked #44 on the list of the country's top craft breweries. To keep up with double-digit sales growth, the company is adding capacity to its brewery, expanding distribution throughout California, opening a new brewery restaurant, and breaking ground on an extensive brewery renovation.
www.karlstrauss.com – @Karl_Strauss – facebook