Karl Strauss Signs Additional Distributors In Nor Cal To Meet Demand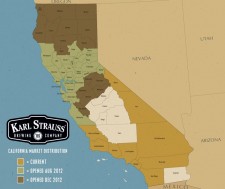 San Diego, CA – Karl Strauss Brewing Company is announcing several new distributorship deals in Northern California. The company launched distribution of its bottled and draft beer into Northern California this past summer and with higher than expected sales, new distributors have been signed on to fill out the footprint of the state.
"Our brand has been incredibly well received in Nor Cal and we're looking forward to sharing our beers with more customers in the coming weeks," says Marc Martin, Karl Strauss VP of Beer. Karl Strauss has continued to expand its brewery operations to keep up with demand. Two additional 240-barrel fermenters and two 120-barrel bright tanks have been added to increase capacity and ensure a steady flow of beer. Another Nor Cal sales rep was also hired to help facilitate growth in developing areas.
The company will enter these new counties both on and off-premise with its award-winning Red Trolley Ale and fan-favorite Tower 10 IPA. Subsequent orders will include the rest of the core line-up, Karl's Imperial Collection, and Karl's Coastal Reserve Series. "With the help of these additional partnerships we will be able to provide our customers with consistent orders of the quality, handcrafted offerings they have come to expect from Karl Strauss," says Martin.
The new distributors include:
Redding Distributing Company
Shasta (portion of)
Trinity
Tehama
Glenn
Colusa
Wonderland Distributing Company
Siskiyou
Shasta (portion of)
Modoc
Humboldt Beer Distributors
Elyxir Distributing, LLC
Santa Cruz
San Benito
Monterey
Delta Sierra Beverage
Calaveras
Merced
Stanislaus
Tuolumne
Mariposa
Yosemite National Park
D&L Distributing
Lassen
Modoc (portion of)
Plumas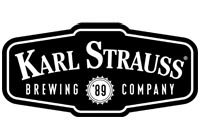 About Karl Strauss Brewing Company
Since 1989, Karl Strauss Brewing Company has pioneered the local beer scene in San Diego. 23 years later, the company continues to brew an innovative line-up of award-winning beers ranging from longtime favorites like Red Trolley Ale to new releases like Wreck Alley Imperial Stout. In 2011, the company brewed 40,000 barrels and ranked #44 on the list of the country's top craft breweries. To keep up with double-digit sales growth, the company is adding capacity to its brewery, expanding distribution throughout California, opening a new brewery restaurant, and breaking ground on an extensive brewery renovation.
www.karlstrauss.com – @Karl_Strauss – Facebook