Karl Strauss Expanding Into The Inland Empire One Pint At A Time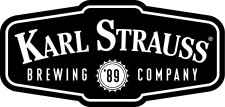 San Diego, CA – Karl Strauss Brewing Company is excited to expand its reach into the Inland Empire, with a new brewery restaurant opening in the gateway city of Temecula. This marks Karl Strauss' first brewery restaurant in Riverside County, where the company's beer sales have been achieving double-digit sales growth year over year. Karl Strauss currently distributes to approximately 1,000 on and off-premise accounts in the greater Inland Empire, with sales expected to significantly increase in 2014. "The craft beer scene in Temecula is taking off, and we've seen that reflect in our beer sales," says Paul Segura, Brewmaster, Karl Strauss Brewing Company.  "We are looking forward to sharing our innovative line-up of beers with thirsty fans at our new brewery restaurant and expanding retail accounts."
The new brewery restaurant features a custom-built 7-barrel JV Northwest system, 2-vessel brew house, 14-barrel fermenter, and two 14-barrel bright tanks.  "We're putting the finishing touches on the brewery and our inaugural brew will be ready to go by Thanksgiving," says Segura.  "We know the locals like their hops, so we're kicking off our tank-tap program with Rasta Red, a bold, hoppy red ale."  The custom-built concrete bar features 12 taps of Karl Strauss' handcrafted beers, including pioneering favorites like Wreck Alley Imperial Stout, award-winning Red Trolley Ale, and Tower 10 IPA.  There will also be several taps dedicated to special releases and tank-tap beers brewed on-site.
In addition to being part of Temecula's thriving craft beer scene, Karl Strauss Brewing Company is proud to support local causes important to the community. Prior to opening, Karl Strauss partnered with Temecula nonprofit, Bike 365, to raise awareness for improved bike paths throughout the city.  Karl Strauss donated all tips raised during its soft-opening, totaling $9,166 to help Bike 365 further its mission.
For more information and pictures of Karl Strauss' new brewery restaurant, visit www.karlstrauss.com.  Share it. Cheers.
About Karl Strauss Brewing Company
Karl Strauss Brewing Company has pioneered the San Diego beer scene since 1989 with innovative beer releases like Big Barrel IIPA and Wreck Alley Imperial Stout.  The brewery has won 54 medals over the past three years and its Red Trolley Ale is one of the most award winning beers in the world. The company is currently ranked #39 on the list of the country's top craft breweries with sole distribution in California.  2013 is on pace to be another exciting year of double-digit sales growth, with the main brewery tasting room and new brewery restaurant in Temecula now open.
www.karlstrauss.com – @Karl_Strauss – Facebook