Karl Strauss – Details on Two Tortugas and The Return of Big Barrel and Full Suit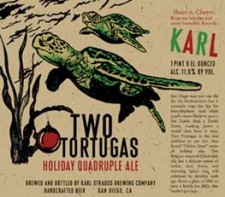 Karl Strauss Brewing gives us some tech specs on their upcoming edition of "Twelve Days of Christmas", Two Tortugas, as well as the returning Big Barrel Double IPA and Full Suit Belgian-Style Brown Ale. Cheers.
Two Tortugas—the 2nd installment of our 12 Days of Christmas with a San Diego twist!
Label copy: San Diego may not top the list for birdwatchers but it certainly tops the list for beer-drinkers. And while you're more likely to spot a Sea Turtle than a Turtle Dove, tracking down a world class beer is easy. Two Tortugas is the 2nd addition to our less than literal "Twelve Days" series of holiday ales. This Belgian-inspired Quadruple Ale has a delicate union of toffee, dark fruits, and warming spices that will continue to develop with age. Raise a glass to 2011 or save a bottle for 2021, this turtle's got legs.
Specs:
11% ABV
35 SRM
25 IBU
Malts: Pale, White Wheat, CaraBelge, Cara Munich II
Hops: Bravo, Willamette
Yeast: Belgian Abbey
Adjuncts: Dark Belgian Candy Sugar
Available: 22oz and on draft mid November, 2011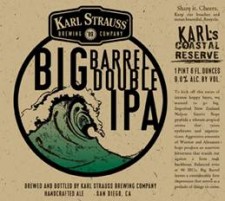 Big Barrel Double IPA – the original installment of Karl's Coastal Reserve Series is back!
Label copy:
When we kicked off this series of intense hoppy beers, we wanted to go big. Imported New Zealand Nelson Sauvin hops provide a vibrant tropical aroma that raises eyebrows and expectations. Aggressive amounts of Warrior and Ahtanum hops produce an assertive bitterness that stands out against a firm malt backbone. Balanced even at 90 IBUs, Big Barrel leaves a considerable first impression that serves as a prelude of things to come.
Specs:
9.0% ABV
15 SRM
90 IBU
Malts:  Maris Otter, Caramel 10, Ashburne Mild
Hops:  Warrior, Ahtanum, Nelson Sauvin
Yeast: Chico
Available: 22oz and on draft beginning September 1, 2011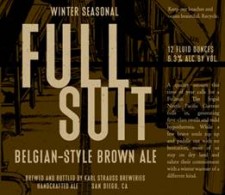 Fullsuit Belgian-style Brown Ale—our winter seasonal!
Label Copy:
Fullsuit is brewed with the changing seasons in mind. Firm toasted malt and roasted nut flavors are underpinned by a hint of vanilla that comes from aging the beer on French oak. Belgian ale yeast adds a peppery, fruity character to the beer's slightly dry and warming finish, making it perfect for the (kind of) cold Southern California winter.
Specs:
6.3% ABV
35 SRM
24IBU
Malts:  Pale 2-Row, Carapils, Caramel 60, Brown Malt
Hops:  Magnum (bittering), Saaz (aroma)
Yeast: Belgian Ale
Adjuncts: Rolled Oats, French Oak
Available: 12oz and on draft beginning November 1, 2011