Karl Strauss Announces Huge Expansion Plans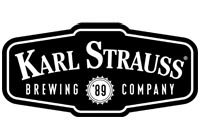 San Diego, CA – April 19, 2012– San Diego's oldest operating craft brewer is set to expand distribution into Northern California. For more than two decades, Karl Strauss Brewing Company has shared its handcrafted beers exclusively with Southern Californians. To keep up with double-digit sales growth in Southern California and new territory demand, Karl Strauss is adding brewing capacity to maintain the quality and consistency it's become known for.  During construction, the brewery also has plans for major renovations that will lead to public tours, tastings, and hosted events. The company's plans for growth continue with the official announcement of a new brewery restaurant in San Diego's 4S Ranch neighborhood.  With the expanded distribution, brewery project, and new brewery restaurant in place, Karl is poised to share its award-winning beers with craft beer fans across the Golden State.
1. Northern California Expansion
After years of customer demand, Karl Strauss has put the pieces in place to expand into Northern California.  The company will enter the new market with a full portfolio of offerings, including award-winning Red Trolley Ale, Tower 10 IPA, and a selection of special releases.  As one of the top three fastest growing craft breweries in the Western region, Karl Strauss looks forward to introducing its line-up to the entire Golden State. 
Projected new market entry date: early summer 2012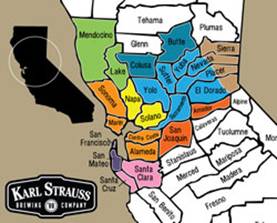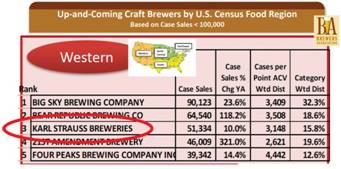 2. The Brewery Expansion
To prepare for the expansion into Northern California and to keep up with growing local demand, the company is installing several key pieces of equipment, increasing overall capacity, and adding to its production force.
Production capacity: 80,000 barrels (25,000 barrel increase, or 31% increase from 2011)
Upgrades:
-Four 240-barrel JV Northwest fermenters
-New Comac keg machine imported from Italy; can clean and fill 60 kegs per
hour
-New driveway and loading dock, allowing for increased commercial truck shipments
-Cooperage investment (additional 600+ kegs)
3. The Brewery Project
With craft beer tourism on the rise, Karl Strauss is constructing a craft beer destination open to the public complete with tours and tastings.  From an outdoor beer garden with wood-fired oven and food truck dock, to a custom built 20-tap bar and barrel-aging room, this space will be every beer fan's favorite hangout. 
Projected opening date: late summer 2012
Key features: 20-tap custom built bar, barrel-aging room, merch and beer-to-go sales, brewery tours, private meetings spaces, outdoor beer garden and fire pit.
Architect Firm: Public Architecture + Planning
Jobs created: 20 full-time and part-time positions
Address: 5985 Santa Fe Street, San Diego, CA 92109
4. Karl Strauss Brewing Company, 4S Ranch
Karl Strauss is opening its seventh brewery restaurant in the north San Diego community of 4S Ranch.  Fans have been begging the company to open an inland location, and this spot hits the mark, showcasing the company's West Coast Pub Fare concept, on-site brew-house,
and a modern brewery-loft vibe.
Projected opening date: July, 2012
Jobs created: 100 positions, including hourly staff and several managers
Address: 10448 Reserve Drive, San Diego, CA 92127
Brewery info: New 7-barrel JV Northwest system, 2-vessel brew house, 1 fermenter and two bright tanks
Stay tuned in the coming months for more details on each of these projects.  For additional information and to view renderings, blueprints, and photos, visit http://www.karlstrauss.com/PAGES/WhoWeAre/Press/2012Projects.html . Share it, cheers.
###
About Karl Strauss Brewing Company
Since 1989, Karl Strauss Brewing Company has pioneered the local beer scene in San Diego.  23 years later, the company continues to brew an innovative line-up of award-winning beers ranging from longtime favorites like Red Trolley Ale to new releases like Wreck Alley Imperial Stout.  In 2011, the company brewed 40,000 barrels and ranked #44 on the list of the country's top craft breweries.  To keep up with double-digit sales growth, the company is adding capacity to its brewery, expanding distribution throughout California, opening a new brewery restaurant, and breaking ground on an extensive brewery renovation. For more information visit www.karlstrauss.com or call the brewery at (858) 273-2739.  Follow us on twitter and become a fan on facebook.  Share it. Cheers.