Karl Strauss Announces Holiday Baltic Porter: Parrot In A Palm Tree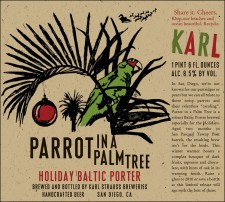 This beer will be the first in a "12 days of Christmas San Diego-Style" series.
Label Copy: In San Diego, we're not known for our partridges or pears but we can all relate to those noisy parrots and their relentless "caroling". Parrot in a Palm Tree is a robust Baltic Porter brewed especially for the Holidays. Aged two months in San Pasqual Tawny Port barrels, the resulting brew isn't for the birds.
This winter warmer boasts a complex bouquet of dark fruits, espresso and chocolate, with hints of oak in its warming finish. Raise a glass to 2010 or save a bottle as this limited release will age with the best of them.
Beer Stats:
8.5% ABV
35 IBU
50 SRM
Beer Ingredients:
Malts: Pale 2-row, Caramel (40, 60, 80), Roasted Barley
Adjuncts: Rolled Oats
Hops: Nugget, Willamette
Yeast: Chico
Availability: available across Southern California in 22oz bottles and on draft starting mid November until it runs out.