Karl Strauss' Whistler Imperial Pils Takes Classic Style To New Level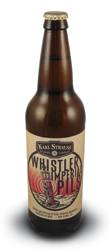 San Diego, CA – Karl Strauss Brewing Company is releasing the next installment of its Coastal Reserve Series, Whistler Imperial Pils.  Staying with the series' hoppy, west coast theme, Whistler Imperial Pils takes the classic elements of a pilsner and turns up the volume – more malts, more hops, more alcohol.
"The Coastal Reserve series is our chance to bottle some of our edgier offerings," says Brewmaster, Paul Segura.  "We wanted to brew something hoppy but unexpected.  We liked the idea of taking the flavor profile of a traditional pilsner and reinterpreting our own bigger, bolder version."
The recipe calls for all imported European ingredients. It begins with imported Moravian malts—a staple in classic Bavarian pilsners—for a rich, toasted malt flavor.  Next, imported Bohemian Saaz hops are used to impart a noble hop spiciness and floral character.  Unlike traditional pilsners, Whistler Imperial Pils is dry-hopped with Saaz hops for an intense earthy hop aroma.  Finally, Whistler Imperial Pils is lagered with authentic Czech Budejovice lager yeast for six full weeks for a crisp, clean taste.  Whistler Imperial Pils comes in at 7.5% ABV and 65 IBUs.  Even with high alcohol and hop bitterness, this beer is remarkably smooth.  "Whistler starts malty and finishes crisp and dry, making it a great beer to cut the heat of spicy foods like Thai or Mexican," says Paul.
Named after the buoy in the San Diego harbor that warns ships of rocky shores and welcomes sailors home, Whistler Imperial Pils' noble hop kick sends a warning but this crisp, dry lager definitely welcomes another sip. Whistler Imperial Pils will be available on draft and in 22oz bottles across Southern California beginning in early July.  "We know people are going to enjoy Whistler.  This is not your typical summertime lawnmower beer," says Paul.  For more information and a video about Whistler Imperial Pils, visit www.karlstrauss.com.  Share it.  Cheers.
Specs:
7.5 % ABV
65 IBU
12 SRM
Label Copy:
"The piercing howl of the SD#1 Whistler Buoy echoes for miles, hailing ships of rocky shores ahead. Like its namesake, Whistler Imperial Pils warns and welcomes at the same time. The grassy and floral bitterness of Saaz hops warns this is no ordinary pilsner, while authentic Moravian malts provide a toasted malt balance that welcomes another sip. Finishing crisp and dry, this addition to the Coastal Reserve Series is right at home in America's finest beer city."
twitter.com/karl_strauss
facebook.com/KarlStraussBrewingCompany