"Joe Sixpack" Announces His Second Book… Christmas Beer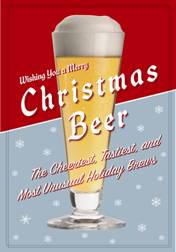 The Essential Holiday Beer Guide – Wishing You a Beery Christmas
Philadelphia, PA – This fall, Philadelphia Daily News beer columnist Don Russell, whose alter-ego, Joe Sixpack, is a renowned authority on the city's brewing scene, will celebrate the release of his second book, Christmas Beers: The Cheeriest, Tastiest and Most Unusual Holiday Brews (Universe, 2008). It is the first comprehensive collection of information about the 2,000-year-old worldwide tradition of brewing and drinking festive ales and lagers during the winter holidays.
"I have had the privilege of traveling around the world in search of great beers," says Russell, "and whether in Austria or Norway, crafting a strong drink to celebrate the winter solstice is a universal tradition.
This book covers this lovely custom from its early origins to modern innovations. 'Christmas beers' are more of a tradition than Christmas itself, spanning a huge range of cultures and practices."
At once informative and conversational, Russell's Christmas Beer includes traditional libations brewed by pagans to celebrate the festival of Saturnalia alongside modern potables including Smuttynose's "Winter Ale" and Schmaltz Brewery's "He'brew Jewbelation." Irreverent in tone and impressive in scope, Christmas Beer is a natural gift for beer lovers and a lighthearted but thorough exploration of holiday drinking culture.
"'Winter Warmers' are highly seasonal and also very regional," says Russell. "In Christmas Beers, I've broken them down historically and regionally, and included plenty of fascinating anecdotes about the way they have evolved over the centuries."
Christmas Beers ranks the "50 Best Christmas Beers," with Harrisburg, PA brewery Troeg's "Mad Elf" coming in number one; offers reviews of 150 plus Christmas brews; and provides home brewing recipes for ambitious readers who want to try their hand at the winter warmer brewing tradition. The book also shines a spotlight on cultural reactions to mixing Christmas and beer, examining how advertising has adapted to regulations forbidding the inclusion of children's characters, such as Santa Claus, on beer labels. Beers that have been banned in some American states, including the English import "Santa's Butt," are also explored.
Russell himself has choreographed an event to celebrate the release of Christmas Beers. On Sunday December 7, he will host a Winter Warmers Tasting at West Philadelphia's Armory (3205 Lancaster Avenue, 215-823-4850). As a component of the tasting, he will offer classroom-style instruction on the qualities of Christmas beers, information that is taught at only one other place in the country. Festive food will also be served; admission is $75. For more information on these events, please visit www.joesixpack.net.
Don Russell is one of America's leading beer writers. His first book, Joe Sixpack's Philly Beer Guide: A Reporter's Notes on the Best Beer-Drinking City in America (Camino, 2007), enjoys tremendous popularity, and his Daily News column, "Joe Sixpack," is one of that paper's most-read features. He is also a weekly host on Glen Macnow's "Midday Show" on Sports Radio 610 WIP Philadelphia. He is an avid world traveler, storyteller, beer drinker, and a founder of Philly Beer Week, an acclaimed celebration of beer culture in Philadelphia, now in its second year.
For more information on Don Russell, or to order a copy of Christmas Beers, please visit www.joesixpack.net.