Jester King Purchased 58 Acres To Preserve Land Around Brewery
(Austin,TX) – We are very excited to announce that Jester King has purchased fifty-eight acres of beautiful Hill Country land surrounding the brewery! Our plan is to conserve the natural beauty of the land, so as to prevent it from ever becoming yet another residential subdivision, while at the same time working with our new natural surroundings to make Jester King one of the world's leading destinations for artisan foods, beverages, goods, and all things fermentation.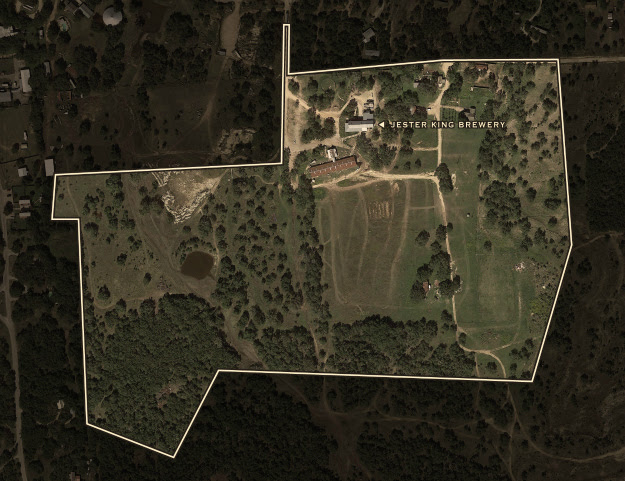 Our decision to purchase the land around us is two-fold. First, we were afraid that had we done nothing, the land would one day become a residential sub-division. It's no secret that Austin is rapidly expanding. For instance, our city is number two on Forbes list of fastest growing cities in the U.S. We see the signs of commercial and residential growth all around us. The direction we're headed made it seem apparent that one day we'd look out from the front steps of the brewery and see rows of houses. This would obviously compromise the rural, rustic character of the brewery and our ability to make authentic farmhouse ale. We felt we had to act. We now have the confidence of knowing that the natural beauty of the land around us, for as far as the eye can see and then some, will be preserved for the long run.
Second, by owning the land, we can soon begin to make Jester King a working farm. It's no secret that we consider ourselves to be an authentic farmhouse brewery. We make this claim on the label of every bottle of our beer. To us, farmhouse brewing means using our natural surroundings to create beer that's inextricably linked to a particular time and place. In order to breathe more life into our claim of authenticity, we think it's very important that Jester King farm its own land for use in beer making.
As far as the near future, this spring we'll begin planting our first crops. In addition to planting grains, herbs, and vegetables for brewing, we'll devote land to starting both a vineyard and orchard. We often blur the lines between beer and wine with our fruit refermentations, so growing our own fruit at the brewery will be an exciting step forward for us.
With time, we seek to make Jester King a leading destination for artisan foods, beverages, goods, and all things fermentation. For instance, we plan on using agriculture to support a farm to table restaurant, and livestock to support cheese making and cured meats. Wine making and distilling will come into the picture using fruit and grains grown onsite, and we'll get honey from an apiary on the land. Onsite malting of barely and wheat is also part of our plan. Bread baking, coffee roasting, fermented vegetables, olives and olive oil, composting, dairy farming, and horticulture are all aspirations of ours too. In other words, we seek to create a location where virtually everything we make comes from the land around us. If it can be grown, crafted or fermented using what's available to us, we seek to do it. Finally, our vision includes small-scale lodging for guests, a wedding and event space, nature trails, farmers markets, art fairs, and an education center on fermentation and sustainable farming.
Please note that our land purchase did not include Stanley's Farmhouse Pizza. Stanley's will remain a separate and independent business from Jester King under its own control and ownership.
We look forward to sharing the development of our vision for an artisan destination location as it plays out over time. In the meantime, we can rest assured that fifty-eight acres surrounding Jester King on the outskirts of one of the fastest growing cities in the U.S. will remain beautiful Hill Country farm land, never victim to encroaching residential development.
— Jeffrey Stuffings, Jester King Brewery Founder
Link to website announcement: http://jesterkingbrewery.com/jester-king-to-preserve-58-acres-of-land-begin-farming