Jester King /Brasserie Dunham Amicis Mortis Details
(Austin,TX) – We're pleased to introduce Amicis Mortis — a farmhouse ale brewed with sweet potatoes, chili peppers, and coconut in collaboration with Brasserie Dunham in Dunham, Quebec. We first tasted beer from Brasserie Dunham at Shelton Bros. The Festival in Los Angeles, California in the fall of 2014 and were completely and utterly impressed. The integration of yeast character, acidity, dryness, bitterness, and effervescence in their farmhouse ales was staggeringly good, and they're wonderful people to boot. We instantly knew we wanted to work with them.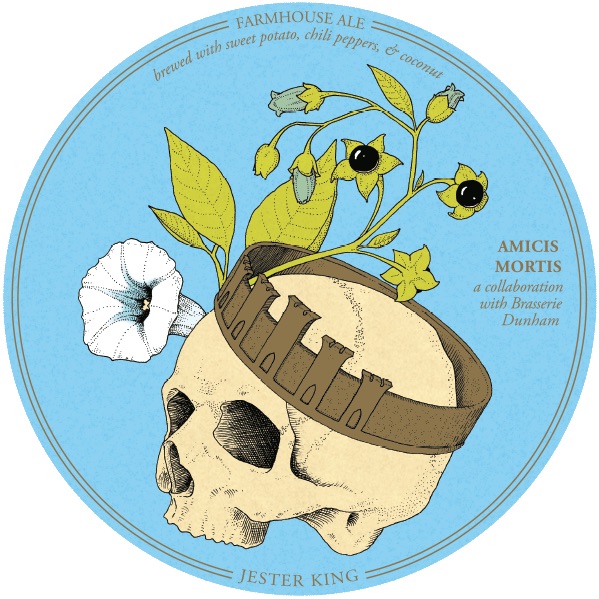 In March of 2015, Eloi Deit of Brasserie Dunham came to Jester King to brew with us. The inspiration for the beer came from a dish cooked with sweet potatoes, chili peppers, and coconut we had with Eloi at Odd Duck the night before brewing. We felt kinship with Eloi through food. We also share a love for low alcohol, slightly bitter, quenching beers. Thus, we wanted to make a very drinkable, table strength beer. We also decided we would add a relatively large dose of hops to the beer, so as to impede bacterial fermentation in favor of more yeast character and bitterness.
Amicis Mortis was brewed with Hill Country well water, malted barley, raw wheat, hops, sweet potatoes, and chili peppers. Sweet potatoes were added to the mash, and a small dose of chili peppers were added late in the boil. It was fermented in stainless steel with our mixed culture of microorganisms consisting of brewers yeast and native yeast and bacteria harvested from the air and wildflowers around our brewery. A couple of weeks into fermentation we added coconut and more chili peppers to the beer. Amicis Mortis was packaged on May 20th, 2015 and refermented in bottles, kegs, and casks. It is 4.2% alcohol by volume, has a finishing gravity of 0.999 (zero degrees Plato), and is 32 IBU.
Amicis Mortis will be released at Jester King when our tasting room opens on Friday, August 21st at 4pm. It will be available by the glass, as well as to go in 750ml bottles ($12, limit 2 per customer per day). Approximately 2,400 bottles are available. We do not anticipate Amicis Mortis being available beyond Jester King, aside from a few special events.
The beer name and label art for Amicis Mortis was created by our in-house artist Josh Cockrell. Here is Josh's description of his thought process:
I took visual inspiration from medieval works produced in the aesthetic of memento mori, a practice of focusing on mortality. The term "Amicis Mortis" literally means "remember to die." The ingredients for this beer all create pause to reflect on death. The word "coconut" comes from old Spanish for "skull." Chili peppers are in the nightshade family, made famous by the poison created from one of its members atropa belladonna. Sweet potatoes, which are in the morning glory family, with blooms lasting only one day, have long represented mortality. The crown hanging from the skull comes from the coat of arms of the city of Dunham, Quebec, and represents that none of us are above death. I found it interesting that our friendly collaboration ended up settling on ingredients symbolic of mortality, and so named the beer Amicis Mortis meaning "friends of death."