Jester King 2017 SPON – Syrah & Sangiovese Release Info
(Austin, TX) – This Friday at 4pm, we'll be releasing a new fruit refermented spontaneous blend called 2017 SPON — Syrah & Sangiovese!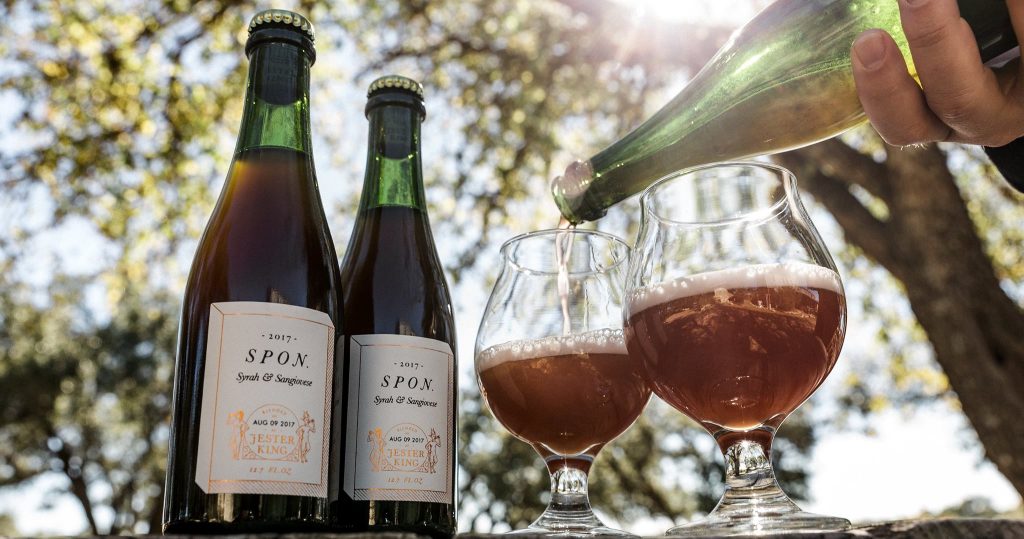 The Texas wine grape harvest this year was really good to us, and we've been able to experiment with a number of different grapes and combinations of grapes in our fermentations. For this blend, we added 500 lbs. of Syrah grapes from northeast Texas and 500 lbs. of Sangiovese grapes from Midland, Texas to eighteen month old 100% spontaneously fermented beer from our 2016 coolship season.
We chose these two particular grape varietals due to the contrasting nature of the fruit. According to our Head Brewer Averie Swanson, "We wanted to create a blend that exhibited the darker fruit and pepper notes of the Syrah with the brighter cherry and more perfumey character of the Sangiovese. The eighteen month old SPON lent an underlying funky canvas that held space for the expression of the grapes."
2017 SPON — Syrah & Sangiovese was blended on August 9th and packaged on September 18th. It's 6.1% alcohol by volume, 22 IBU, 3.5 pH, and 1.002 specific gravity (0.5 Plato). This is our first blend. It will be released when our tasting room opens on Friday, December 15th at 4pm. It will be available by the glass and in bottles to go (375ml/$25). We have about 3,000 bottles available with a bottle limit of three bottles per customer per day. Outside of special events, it will only be available at our tasting room.