Iron Hill Releases Pumpkin Ale in Cans
(Delaware, Valley USA) – On Wednesday, September 6 – the same day as the Full Corn Moon, the final full moon before the Harvest Moon in October – Iron Hill Brewery & Restaurant will release Pumpkin Ale in cans. The annual release is hotly anticipated by mid-Atlantic beer lovers, and this year, it will coincide with the full moon on 9/6. In addition, Pumpkin Ale will be packaged in a completely new 16-oz can design, with seasonal and playful nods to Halloween and the fall season, including foreboding pumpkins and spooky nightscapes.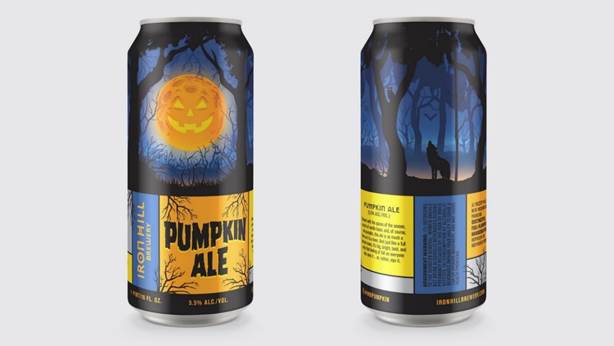 Pumpkin Ale is a medium-bodied copper ale; malty sweet, with balancing bitterness and brewed with real pumpkin, it is spiced with traditional pumpkin pie spices and vanilla instead of finishing hops
Pumpkin Ale will be available while supplies last in draft pints and growlers at all Iron Hill locations, as well as in 4-packs of 16-oz. cans

Cans will be available for take-out
Growlers will be available for take-out
Pints will be available for dine-in only

The can features a new, festive and seasonal design from Pittsburgh, PA'sSmith Brothers Agency, a fun departure from the classic orange cans of past years. Other collaborations between the brewery and the firm have included Rising Sun IPA, Crusher, Mahalo, Apollo!, Ore House IPA and Vienna Red Lager
Iron Hill has long embraced pumpkin as a harbinger for the fall and their brewpubs celebrate with festive and fun events throughout the harvest season. They first brewed their traditional Pumpkin Ale as a companywide offering in 2010; and, in 2015, Iron Hill added it to their seasonal can lineup. This year, several Iron Hill locations will be hosting pumpkin-inspired parties, including the following:
Not Your Ordinary Pumpkin Event: On 

Saturday, September 9

 from 

1 p.m. until 5 p.m.

 Iron Hill Maple Shade will host an inventive pumpkin-themed Quizzo, while serving a variety of pumpkin beers, including: I Can't Believe It's Not Pumpkin Ale, Cinderella's Carriage, The British Are Punkin, PumpkinSpicedVanillaMochaLatteVenti, Honey I Shrunk Your Pumpkin, Cinderella's El Camino, PumpTang and Trubbel On The Cooper River.
Tapping of the Great Pumpkin: On 

Saturday, September 9

 from 

12 noon until 4 p.m.

 Iron Hill Lancaster will turn their back patio into a beer-filled pumpkin patch featuring fall classics, such as: Pumpkin Ale, Imperial Pumpkin Ale, Pumpkin Coffee Stout and Cinderella's Carriage.
Pumpkin Prost: On 

Saturday, September 23

 from 

12 noon until 5 p.m.

 Iron Hill Huntingdon Valley will celebrate their favorite German and pumpkin beers, with special pours of Pumpkin Ale, Imperial Pumpkin Ale, Ichabod Imperial Pumpkin Ale, Cinderella's Carriage, Pennypacker Pils, Schwarzbier, Munich Dunkel, Oktoberfest and Oh My Gourd.
Harvest at the Hill: On 

Saturday, September 30

 from 

1 p.m. until 5 p.m.

 Iron Hill Phoenixville will honor the changing of the seasons by focusing on fall flavors and fun beers, including: Bridge Street Bock, Schwarzbier, Oktoberfest, Altbier, Pumpkin Ale, Ichabod Imperial Pumpkin Ale, Jack Skellington, Pumpkin Coffee Stout and Imperial Pumpkin Ale.
About Iron Hill…Founded by home brewers Kevin Finn and Mark Edelson and restaurateur Kevin Davies in Newark, DE 20 years ago, Iron Hill Brewery & Restaurant has blossomed from one restaurant and brewery to 12 locations across the mid-Atlantic.  Each restaurant is dedicated to producing and serving top-quality hand-crafted beers and cuisine in a warm and hospitable setting, and all are open seven days a week for lunch and dinner.  In 2014, Zagat honored Iron Hill by naming them the most popular restaurant in Philadelphia, and their beers have earned 45 medals from the Great American Beer Festival in an unbroken 20-year winning streak that continues today.
Locations include…Newark, DE (147 East Main Street, 302-266-9000); Wilmington, DE (620 Justison Street, 302-472-2739);  Media, PA (30 East State Street, 610-627-9000);  West Chester, PA (3 West Gay Street, 610-738-9600);  North Wales, PA (1460 Bethlehem Pike, 267-708-2000);  Phoenixville, PA (130 East Bridge Street, 610-983-9333);  Lancaster, PA (781 Harrisburg Pike, 717-291-9800);  Maple Shade, NJ (124 East Kings Highway, 856-273-0300); Voorhees, NJ (13107 Town Center Boulevard, 856-545-9009);  Chestnut Hill, PA (8400 Germantown Avenue,215-948-5600);  Ardmore, PA (60 Greenfield Avenue, 610-228-2280);  andHuntingdon Valley, PA (785 Huntingdon Pike, 610-602-9255).