Iron Hill Brewery Releases Rising Sun IPA in Cans
(Delaware Valley, USA) – On Thursday, April 20, Iron Hill Brewery & Restaurant will release Rising Sun IPA in cans, a first for the American-style IPA. Recently, Iron Hill committed to making more of their popular and award-winning beers available to fans, and this latest release is emblematic of that commitment.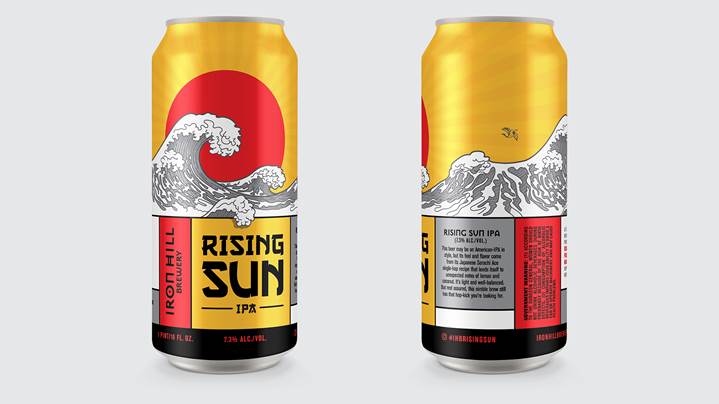 Rising Sun IPA is brewed with 100% Japanese Sorachi Ace hops for a spicy citrus character that's perfect for warm weather drinking.
Cans will be available while supplies last in four-packs of 16-oz. cans
Cans will be available for both dine-in and take-out at all 12 Iron Hill locations

The can also features a fresh new design from Pittsburgh, PA's Smith Brothers Agency, the beginning of a new collaboration between the brewery and the firm.
Future collaborations will include summer's much-anticipated release of Mahalo, Apollo! summer wheat beer in cans later this year.
About Iron Hill…Founded by home brewers Kevin Finn and Mark Edelson and restaurateur Kevin Davies in Newark, DE 20 years ago, Iron Hill Brewery & Restaurant has blossomed from one restaurant and brewery to 12 locations across the mid-Atlantic.  Each restaurant is dedicated to producing and serving top-quality hand-crafted beers and cuisine in a warm and hospitable setting, and all are open seven days a week for lunch and dinner.  In 2014, Zagat honored Iron Hill by naming them the most popular restaurant in Philadelphia, and their beers have earned 45 medals from the Great American Beer Festival in an unbroken 20-year winning streak that continues today. They debuted their 12th location, in Huntingdon Valley, PA, in August 2016, and recently announced their planned expansion into Center City, Philadelphia at 12th and Market Streets.
Locations include…Newark, DE (147 East Main Street, 302-266-9000);  Wilmington, DE (620 Justison Street, 302-472-2739);  Media, PA (30 East State Street, 610-627-9000);  West Chester, PA (3 West Gay Street, 610-738-9600);  North Wales, PA (1460 Bethlehem Pike, 267-708-2000); Phoenixville, PA (130 East Bridge Street, 610-983-9333);  Lancaster, PA (781 Harrisburg Pike, 717-291-9800);  Maple Shade, NJ (124 East Kings Highway, 856-273-0300); Voorhees, NJ (13107 Town Center Boulevard, 856-545-9009);  Chestnut Hill, PA (8400 Germantown Avenue, 215-948-5600); Ardmore, PA (60 Greenfield Avenue, 610-228-2280);  and Huntingdon Valley, PA (785 Huntingdon Pike, 610-602-9255).