Iron Hill Brewery Plants Its Flag on Market Street in Philly
Wilmington, DE (September 13, 2018) – Delaware-based Iron Hill Brewery and Restaurant is thrilled to announce the opening of their first Center City Philadelphia location today in the exciting new East Market development. Doors opened to the public this evening, September 13 at 5:00 p.m., Iron Hill Center City, which is located at 1150 Market Street and marks the 15th brewery and restaurant for the group. This is the third opening for Iron Hill in 2018 with a fourth slated for November in Hershey, PA, as part of an aggressive growth strategy.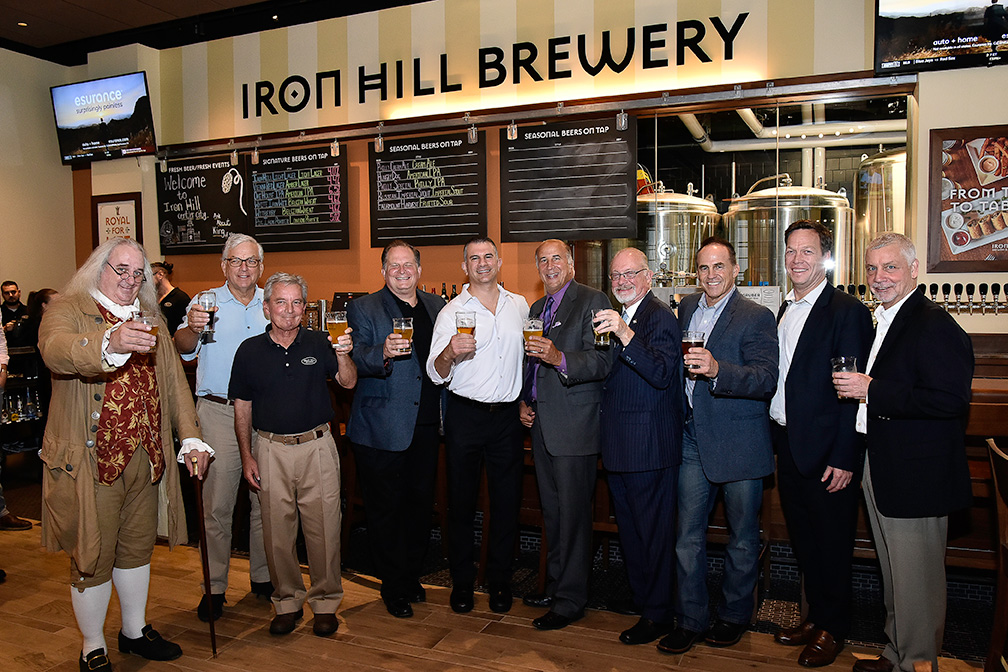 Photo Caption: "Ben Franklin", Philabundance Executive Director Glenn Bergman, Iron Hill Brewery Co-Founder Kevin Davies, Iron Hill Brewery Co-Founder Mark Edelson, Iron Hill Brewery Center City General Manager Chris LoAlbo, Philadelphia City Councilman Mark Squilla, Philadelphia City Councilman Bill Greenlee, Iron Hill Brewery CEO Kim Boerema, National Real Estate Development Managing Director Daniel Killinger, and Iron Hill Brewery Co-Founder Kevin Finn.
The approximately 8,500 sq. ft. Iron Hill Center City seats approximately 275, plus al fresco dining and includes an on-site brewery with capacity to produce 900 barrels of their award-winning craft beer annually. The brewery and restaurant operates Monday through Wednesday from 11:30 a.m. to 11:00 p.m., Thursday and Friday from 11:30 a.m. to 12:00 a.m., Saturday from 11:00 a.m. to 12:00 a.m. and Sunday from 11:00 a.m. to 11:00 p.m.
The on-site brewery enables Iron Hill Center City to deliver craft beer freshness, brewed, poured and enjoyed all under one roof. Seasonal and Philadelphia-centric craft beer like the new Hungry Dog IPA and Philly Special will be on tap for thirsty football fans. Craft beer enthusiasts can expect the award-winning signature Vienna Red™ Lager, Iron Hill Light Lager and White Iron® Wit, as well as deliciously wholesome fare including the Drunk Monk Burger ($14.50), Philly Cheesesteak Egg Rolls ($12.00), Voodoo Chicken Flatbread ($12.00), Grilled Salmon Salad ($17.50) and Char-Grilled N.Y. Strip Steak ($25.00). Along with signature menu items and craft beer, there will be a seasonal beer and food menu to reflect the local flavors of Philadelphia including a daily feature sheet, showcasing chef-created dishes using the freshest seasonal ingredients.
Designed by Washington, DC-based Streetsense, the interior reflects recent incarnations of the Iron Hill concept featuring iconic pop art images with a nod to Philadelphia's rich history, while floor-to-ceiling windows usher in natural light and transmit the vibrancy of the neighborhood. Design elements highlight the open kitchen and glass walled-brewery prominently positioned behind the bar, walls are swathed in warm yellow, gold and rust hues contrasted by sleek industrial vaulted ceilings covered in copper-toned corrugated metal offset by large black circular chandeliers.
In addition to their brand-wide donation to CureSearch for Children's Cancer, and as part of Iron Hill's philanthropy and commitment to the communities they serve, the brewery and restaurant will be collaborating with Philabundance to donate $0.75 from each Triple Chocolate Hill dessert sold in order to help fund the organization's mission to drive hunger from our communities today and to end hunger forever.
"When we opened our first Iron Hill 22 years ago, we never dreamed that one day we would be opening our 15th location in Center City Philadelphia," explains Co-Founder Kevin Finn. "We couldn't be more excited to be part of the growth, energy and potential of the East Market neighborhood to offer a new place to enjoy delicious beer and food with good friends."
About Iron Hill
Named after the historic Revolutionary War landmark in Delaware, where General George Washington battled the British, Iron Hill is among the most enduringly successful craft brewers in the United States. Its 21-year consecutive medal-winning streak at national and international competitions is the longest by any independent craft brewery.
Founded by home brewers Kevin Finn, Mark Edelson and restaurateur Kevin Davies in Newark, DE in 1996, Iron Hill Brewery & Restaurant has blossomed from one restaurant and brewery to 15 locations up and down the East Coast, including Pennsylvania, Delaware, New Jersey and South Carolina. Each brewery/restaurant has their own scratch kitchen and craft brewery, allowing individual chefs and brewers the creativity to pair the freshest ingredients with the highest quality grains and hops. For 21 years, Iron Hill has incorporated beer in everything they do. As a result, Finn, Edelson and Davies are viewed as innovative business leaders in their home state of Delaware and in the Mid-Atlantic region. They started Iron Hill at a time when small breweries were just beginning to gain mass appeal around the country and their entrepreneurial, forward thinking helped build them into what they are to date. Each individual location has its own head brewer. Each location dedicates itself to the freshest ingredients and friendly atmosphere for all age groups – helping change overall perceptions about brewpubs one meal, one pint, one community at a time.
Locations 
Newark, DE (147 East Main Street, 302-266-9000); Wilmington, DE (620 Justison Street, 302-472-2739); Media, PA (30 East State Street, 610-627-9000); West Chester, PA (3 West Gay Street, 610-738-9600); North Wales, PA (1460 Bethlehem Pike, 267-708-2000); Phoenixville, PA (130 East Bridge Street, 610-983-9333); Lancaster, PA (781 Harrisburg Pike, 717-291-9800); Maple Shade, NJ (124 East Kings Highway, 856-273-0300); Voorhees, NJ (13107 Town Center Boulevard, 856-545-9009); Chestnut Hill, PA (8400 Germantown Avenue, 215-948-5600); Ardmore, PA (60 Greenfield Avenue, 610-228-2280); and Huntingdon Valley, PA (785 Huntingdon Pike, 610-602-9255); Greenville, SC (741 Haywood Rd. 864-568-7009); Rehoboth, DE (19815 Coastal Highway, 302-260-8000), Philadelphia, PA (1150 Market Street, 267-507-7365) and Hershey, PA location expected to open in November 2018.
www.ironhillbrewery.com – @ironhillbrewery – Facebook