Iron Hill Brewery Debuts 'Rudolph's Revenge' Cans
This November, the beer lovers at Iron Hill Brewery & Restaurant are celebrating the season with three exciting ways for fans to bring their award-winning beers home for the holidays.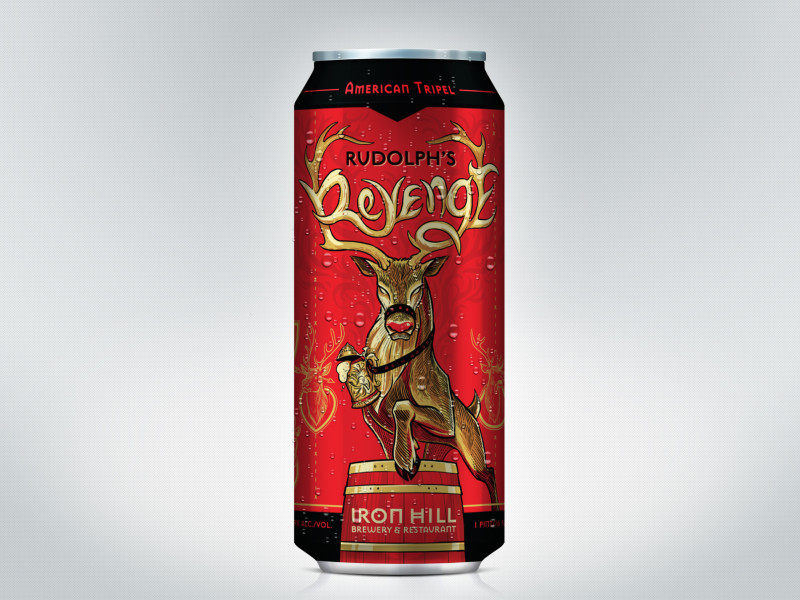 Iron Hill will release their favorite holiday beer, Rudolph's Revenge, in cans for the first time
Rudolph's Revenge is an American-style Belgian golden ale with complex aromas and flavors of grapefruit, spice and banana, with a refreshing hop bitterness
OG: 1.086 Color: 3.9 IBU: 60 ABV: 9.0%
The beer will be available in packs of four 16-oz. cans for $18.25
For Thanksgiving, guests are encouraged to pick up a #GobbleGobbleGrowler and serve Iron Hill beer as a perfect pairing with a lavish meal of traditional fare
Growlers are available in both 32-oz. and 64-oz. sizes
In the spirit of the holiday season, all growler glassware is complimentary, with the purchase of beer from Sunday, November 22 through Wednesday, November 25
On Wednesday, November 25, all locations will feature at least one style of pumpkin beer on draught, alongside their classic offerings; and pumpkin beer styles will vary by location
This year, Iron Hill has revamped their popular Gift Packs with new beers from their catalog of delicious and award-winning Big Bottled Reserves
The Gold Medal Pack highlights beers that have earned 18 medals from either Great American Beer Festival (GABF) or World Beer Cup (WBC), including:

The Cannibal, a Belgian-style golden ale brewed as a tribute to one of the world's greatest cyclists, Eddy "The Cannibal" Merckx, with notes of spice and tropical fruit; and it has won 2005 GABF Gold, 2006 WBC Silver, 2015 GABF Silver
Russian Imperial Stout, Iron Hill's most awarded beer, a full-bodied stout with complex, malt-y sweet and high-roasted character balanced by citrus-y American hops; and it has won 2003 GABF Gold, 2006 GABF Gold, 2006 WBC Bronze, 2010 GABF Gold, 2010 WBC Gold, 2011 GABF Silver, 2012 WBC Gold, 2012 GABF Bronze, 2013 GABF Silver, 2014 WBC Gold, 2015 GABF Silver
Wee Heavy, a full-bodied Scotch-style ale with milk fruity aroma and flavor; and it has won 1998 GABF Bronze, 2001 GABF Bronze, 2004 WBC Gold, 2008 WBC Silver
The Abbey Pack will feature The Cannibal; Abbey Dubbel, a mahogany ale brewed with dark Belgian candi sugar for distinct aromas of plum and pear; and Bedotter, a traditional Belgian-style golden ale with complex aromas and notes of plum, spice and banana, with refreshingly balanced bitterness
Both Gift Packs are $50 each
In addition, Iron Hill will offer their Growler Gift Pack, featuring a 64-oz. growler, two logo pint glasses and a $20 gift card, perfect for growler fills
Growler Gift Packs are $30 each
$20 gift cards are good for any style of beer and redeemable at all 11 Iron Hill locations
About Iron Hill Brewery & Restaurant
Founded by home brewers Kevin Finn and Mark Edelson and restaurateur Kevin Davies in Newark, DE in 1996, Iron Hill Brewery & Restaurant has blossomed from one restaurant and brewery to 11 locations across the mid-Atlantic. Each restaurant is dedicated to producing and serving top-quality hand-crafted beers and cuisine in a warm and hospitable setting, and all are open seven days a week for lunch and dinner. In 2014, Zagat honored Iron Hill by naming them the most popular restaurant in Philadelphia.
www.ironhillbrewery.com – @ironhillbrewery – Facebook