Ipswitch Whipple House Old Ale from Mercury Brewing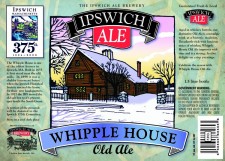 Send off 2009 in style with a magnum bottle of the Whipple House Old Ale!

2009 marked the 375th Anniversary of the town of Ipswich.  As part of the festivities, Mercury Brewing released a series of four strong ales in limited quantity.  In each series, only 800 1.5L bottles worth of beer were brewed and filled by hand here at the brewery.

The last strong ale to round out the series is the Whipple House Old Ale.  After aging in Macallan whiskey casks for months, this full-flavored brew is sure to impress.
WHEN: Thursday December 31st, 11am-2pm
WHERE: Mercury Brewing Company
23 Hayward Street
Ipswich, MA
WHAT: 1.5L wax-dipped magnum bottles of the Whipple House Old Ale are being sold right out of the brewery this Thursday only.  1.5L bottles are $25.00 each, and samples will be available between 11am and 2pm.