Hopworks Releases IPX Single Hop Ale: Mt. Hood
Portland, OR – Hopworks Urban Brewery (HUB) is releasing IPX Single Hop Ale: Mt. Hood. The beer is the latest in the single hop series, which has continued to be an educational celebration of hops for more than two years. It is available on tap and in 22oz bottles throughout the Pacific Northwest.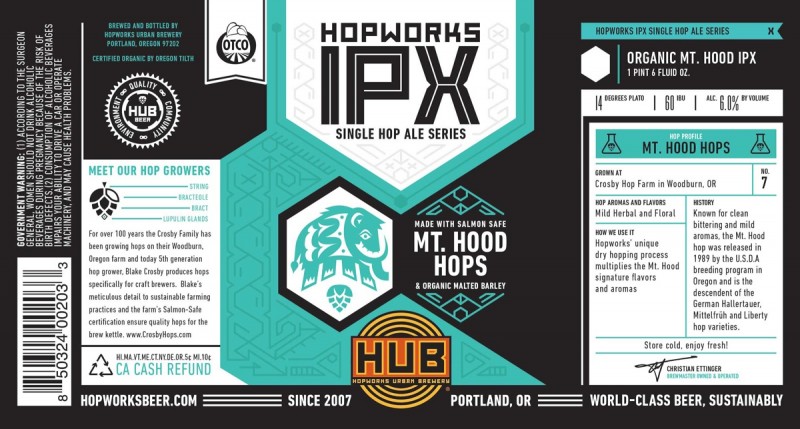 The Mt. Hood beer contains Salmon Safe Certified Mt. Hood hops from Crosby Farms in Woodburn, Oregon. Mt. Hood hops are known for clean bittering and mild aromas and flavors. The hop was released in 1989 by a breeding program in Oregon and is the descendant of the German Hallertauer, Mittelfrüh and Liberty hop varieties.
The single hop ale series highlights signature aromas and flavors of specific hop varieties that are further multiplied through our unique dry hop process. Each beer in the series has the same base recipe with the same finishing hop schedule, 60 IBUs and 6% ABV.
About Hopworks Urban Brewery
Founded in 2007, Hopworks Urban Brewery is committed to brewing world-class beer as sustainably as possible using organic malts and hops sourced primarily from the Northwest. The company's 20-barrel brewery produces 12,500 barrels of beer a year for HUB's two brewpubs and for distribution in Oregon, Washington, Idaho and British Columbia. Hopworks incorporates a range of sustainable practices in its operation and makes every effort to protect "our" future with a thoughtful alternative. HUB is 100% renewably powered and "cradle to gate" carbon neutral. Visit Hopworks online at www.HopworksBeer.com and follow us on Twitter and Facebook.