Hopworks Release Abominable Winter Ale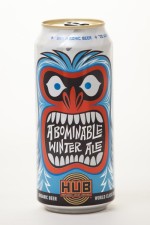 Portland, OR – Hopworks Urban Brewery (HUB) is releasing the cult-classic Abominable Winter Ale beginning in October. This Northwest Organic Winter Ale is available in 16 oz. cans, 22 oz. bottles and on draught in Oregon, Washington, Idaho and British Columbia bars, pubs, and stores.
Abominable Winter Ale emerges from the depths of our brewery every winter. Made with organic Cascade, Centennial, Chinook, and Simcoe hops, Abominable has a complex floral, spicy and citrus backdrop and Munich and caramel malts provide some balanced sweetness. Abominable is 7.3% ABV and 70 IBU.
Abominable is HUB's most popular seasonal beer and has inspired countless creative homages by Abominable fanatics around the country. This year Bella Organic Farm has created an Abominable haunted corn maze for autumnal thrill seekers.
In February, Hopworks will release the next of the company's seasonal legends, Rise-Up Red, a gold medal-winning Northwest Red Ale that will feature a fun new design for 2015.
About Hopworks Urban Brewery
Hopworks Urban Brewery (HUB) is Portland's first Eco-Brewpub offering world-class beer and fresh food in a relaxed and communal atmosphere.  HUB incorporates a range of sustainable practices in their operation and makes every effort to protect "our" future with a thoughtful alternative.  Hopworks is 100% renewably powered and "cradle to gate" carbon neutral.
hopworksbeer.com – @HopworksBeer – facebook