Hops & Grain Brewing Adds PorterCulture To Full Time Lineup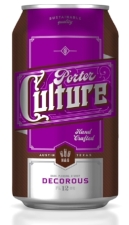 (Austin,TX) – We are happy to announce the newest beer in our permanent line-up, a Baltic style Porter named PorterCulture!
A base of Pilsner and Munich malts, blended with de-husked black malt and chocolate wheat lends the PorterCulture a smooth mouthfeel, with a clean and crisp lager finish. Throughout the porter, notes of coffee, dark chocolate, graham crackers and just a wee hint of roast make itself known. Wanting to highlight the malts, the hops were kept at bay with only a hint of bitterness at the early stages, with raisin and caramel flavors joining the party at the end. We find that PorterCulture is just the perfect, decorous touch to Austin's nature-friendly living, whether it be a spirited game of disc golf, a nice hike or a mountain bike ride, this beer is the perfect companion!
PorterCulture is hitting shelves mid-October. If you don't feel like waiting, you can get a taste of it at our Third Anniversary Party!