Hops & Grain Brewery Releases A Pale Mosaic Cans
(Austin, Texas) –Austin's most sustainable brewery, Hops & Grain, is stoked to announce they are adding another can to its permanent line-up! As of yesterday, the wildly popular A Pale Mosaic is available for purchase in cans on Austin shelves. Earlier this year A Pale Mosaic was released on draught at several local watering holes, and due to the overwhelming positive reception of the ale, Hops & Grain made the decision to get this bad boy canned, making it even more widely available.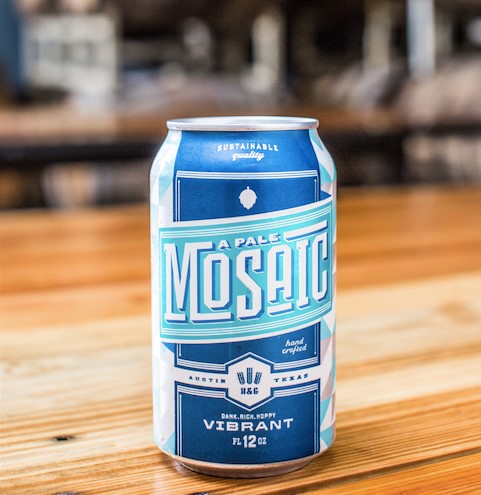 A Pale Mosaic begins with a German Pale Ale malt base with small additions of Vienna for added breadiness and body. The bittering charge comes in the form of Oregon grown Nugget hops, with the dry-hopping consisting of 80% Mosaic and 20% blend of some of Hops & Grain's favorite complimentary hops.
A Pale Mosaic isn't the only change to the year-round permanent line-up. Hops & Grain will start offering a few of their cans seasonally including ALT-eration, Pale Dog and a yet to be announced summer beer. ALT-eration will come back with its seasonal debut in October and will be available through January. Pale Dog will make an appearance from February through May. The One They Call Zoe, Greenhouse IPA and Porter Culture will all still be available year-round.
Hops & Grain: Specializing in craft beer and sustainability, Hops & Grain Brewery is located in East Austin (literally at the end of East Sixth Street) at 507 Calles, Austin, TX 78702. Hops & Grain Tap Room is open from 8 a.m.-10 p.m. seven days a week. Tours of the brewery given on Thursday and Friday at 5 p.m. Saturdays at 1, 3, and 5 p.m. Tours are approximately 45 minutes and include special samples not available in the tap room.
www.hopsandgrain.com – @hopsandgrain – facebook