Hoppin' Frog – Hop Dam TRIPLE IPA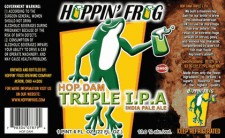 The Big News for February at Hoppin' Frog is our release of Hop Dam TRIPLE IPA!!! This extremely hoppy American IPA will be officially released on Monday February 15, but we will have a few cases available at the brewery only, on Friday 2/12 and Saturday 2/13.
Doors won't open until strictly at 1 PM, then will go until about 5 PM – look for our new HOPPIN' FROG street sign! Retail price for Hop Dam is $13.99 – we now accept cash or credit card.
Hop Dam has been a long time in the works, and its design required us to build a large stainless steel hop dam for our kettle, just for this beer! It was worth all the effort, because this beer is extremely hoppy and very satisfying, using 50% more hops than our Mean Manalishi Double IPA, which was voted Best Double IPA In The World by the US Beer Tasting Championships. Hop Dam is 10% alcohol by volume, and really hoppy, with a bitterness level that is very high but refined and therefore refreshing – its like kissing a hop!! Along with all the standard hop additions, it is also mash-hopped, first-kettle-hopped, and dry-hopped!!!
Hop Dam is a 100% American-style IPA, dominated by the top-rated, assertive and refined Amarillo hops, along with lots of aroma and flavor from Columbus, and Cascade, and the wonderful Summit hops – the very special dwarf hop plant picked by hand, and sought-after for its great flavor and aroma. These hops work great together, and make Hop Dam TRIPLE IPA our new standard for hoppy beers!! It will be available for only a few months, so get Hop Dam while it lasts!
—
Cheers to great beers!!!
Fred Karm
Hoppin' Frog Brewery