Hoppin' Frog Hop Dam Triple IPA Release Info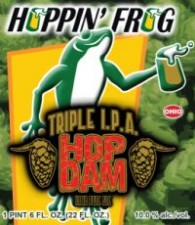 Hoppin' Frog is releasing Hop Dam Triple IPA for 2011 on Friday and Saturday March 18/19 at the brewery. Damn, is it intense this year – it is hoppier than ever, and at 10.0% abv intense is not too hard to understand!!
We used the same hop weights and times, but a different mix of hops.  It has more bitterness overall, and more of a refined bitterness from an outlandish amount of Summit hops. Hop Dam has great flavor because it is hopped in every possible opportunity throughout the brewing process to make an assaulting yet satisfying Triple IPA beer.
It has many of the great American hops used as dry-hops, whirlpool hops, finishing hops, flavor hops, bitterness hops, first-wort hops, and even mash hops!!
Stop by and get yours before its all gone!! Hoppin' Frog Brewery will have special sales hours Friday from 1:00 PM until 5 PM, and Saturday from 12:00 Noon until 4 PM. See you here!!
Hoppin' Frog Brewery 1680-F East Waterloo Rd./Route 224 Akron, Ohio 44306
(330) 352-4578