Highland Park Brewery's Tim McDonnel Announces Departure
(Highland Park,CA) – News quietly broke yesterday that Highland Park Brewery brewer/cellarman, and Bob Kunz' right hand man Tim McDonnel will be leaving his post at HPB.  While a brewery losing a brewer isn't usually news, if you knew how small and how tight of an operation Highland Park Brewery is, you'd know that Tim is/was a very integral part of the ultra-amazing beers being pumped out of this small brewery.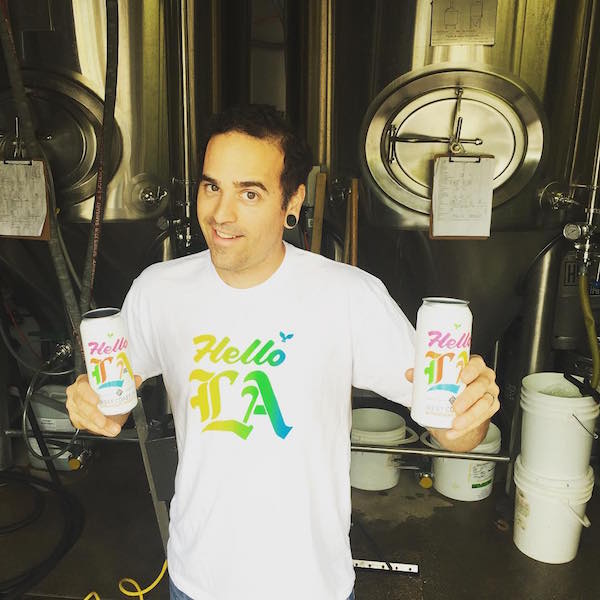 We reached out to head brewer/owner Bob Kunz for comment on Tim's departure. We got to know Tim the past two years, he a great dude that we wish well for his next chapter.
The gist of the story is that the house Tim lives in is getting sold so they were given notice on Monday. They recently had a baby and have always considered their long game being moving closer to family and to an area with better schools. The surprise selling of their house sped the process up.

Of course, we're bummed and sad Tim is leave as he's such a good dude and big part of HPB. But we should still be in pretty good shape moving forward. With Tim having a baby recently he took a fair amount of time off for paternity leave. During this time Grant Scholler was able to get up to speed and take over a fair amount of tasks that Tim was doing. In addition, Eric Mendoza has been with us for quite a while, helping out in the brewery part time, he can probably pick up some of the slack as well. We will most likely hire another brewer, but we'll probably be fairly methodical and make sure its the right person. Tim's last month of work will be August. I'm not sure if we'll hire another person or not by then, it probably depends on the candidate more than anything.

As far as Chinatown (Editor's note: Highland Park is set to expand operations in nearby Chinatown) is involved, we'll probably try and be pretty thoughtful in hiring. We're still about a year off from opening in Chinatown (we have not started construction yet, so timelines are pretty unpredictable at this point). We most likely will try and hire people with the thought and intent that they would be contributing to our growth in Chinatown. I don't know what that will look like yet, but we will be looking at the big picture of 2 operating breweries as we move forward.