Highland Brewing Mandarina IPA Hits Shelves This Month
(ASHEVILLE, N.C.) – Highland Brewing Company today announced the upcoming release of Highland Mandarina IPA, an aromatic, citrus India pale ale brewed with California oranges. Available on draft and in cans, the sessionable brew will hit Highland's tasting room and store shelves in late June, in time for Fourth of July festivities.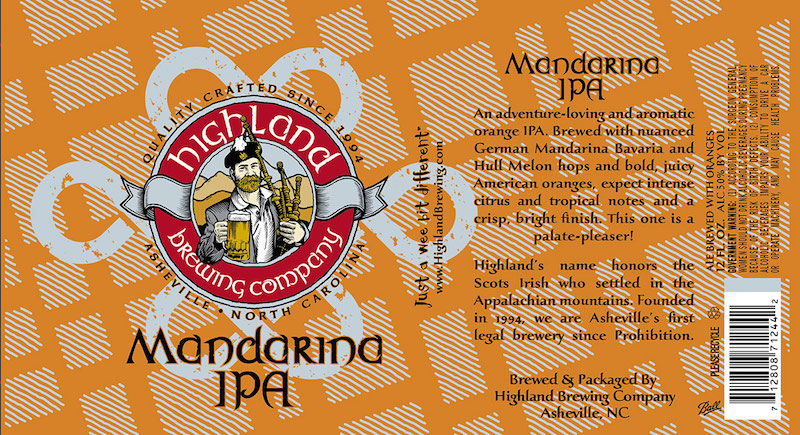 Highland Mandarina IPA is brewed with nuanced German Mandarina Bavaria and Hull Melon hops and bold, juicy California oranges. This palate-pleasing, fruity crusher bursts with intense orange and tropical notes and asserts a crisp, bright finish.
"We combine Mandarina Bavaria and Hull Melon dry hops with hundreds of pounds of whole pureed oranges to create a unique orange blossom aroma and orange zest flavor in this fruit IPA. The beer gets its IPA backbone from the classic American hops, Cascade, Chinook and Bravo," said Hollie Stephenson, head brewer at Highland Brewing Company. "Making a beer like this is a welcome challenge for our brew team. We even get the pilot brewers involved in handling and preparing the orange puree. I can't wait to have this one in a package year-round."
Up-ending a portfolio of balanced beers for a more balanced portfolio, Highland will release more new packaged beers this year than it has in a decade. The brewery's introduction of new year-round beers and several new limited styles signals attention to the cornerstones of its success – consistency and quality – while appealing to more palates. To name a few, the hop head, the citrus savvy and the chocoholic will find Highland beers in their flavor zone. Adding cans to the mix further reflects an evolving Highland.
"Highland is the pioneer of craft brewing in Asheville, and we're still reaching," said Leah Wong Ashburn, president of Highland Brewing Company. "Excitement for new beers like Mandarina IPA is palpable from our fans, long-time and new, and our staff. Test batching with new hops and real oranges is invaluable, and Hollie and the brew team have done it right."
Ashburn continued, "Mandarina IPA shows our creative spirit, our precision and our hands-on, artisanal approach to beer. It's our second beer in cans and a perfect addition to outdoor days. It's a big step for our team and something to celebrate."
About Highland Brewing Company
Highland Brewing Company has crafted the highest quality beer with North Carolina mountain water since 1994. Family-owned and Asheville's first legal brewery since Prohibition, it is a local favorite for beer fans, music fans, and families. Highland's name honors the Scots Irish who settled in the Appalachian Mountains in the 18th and 19th centuries. The flagship beer, Gaelic Ale, and other styles of Highland beer are available in nine states and Washington, DC. For details on tours, special events, concerts, sustainability efforts, the new event center and more, visit www.highlandbrewing.com.