Highland Brewing Introduces Southern Sixer IPA
(Asheville, NC) – With six hop varieties, 6% ABV, and 60 IBUs, Highland's new seasonal, Southern Sixer IPA, will have hop fiends grabbing another six-pack. Great hops and a deep dive into sensory panels and dry hop trials led this complex IPA to its final form.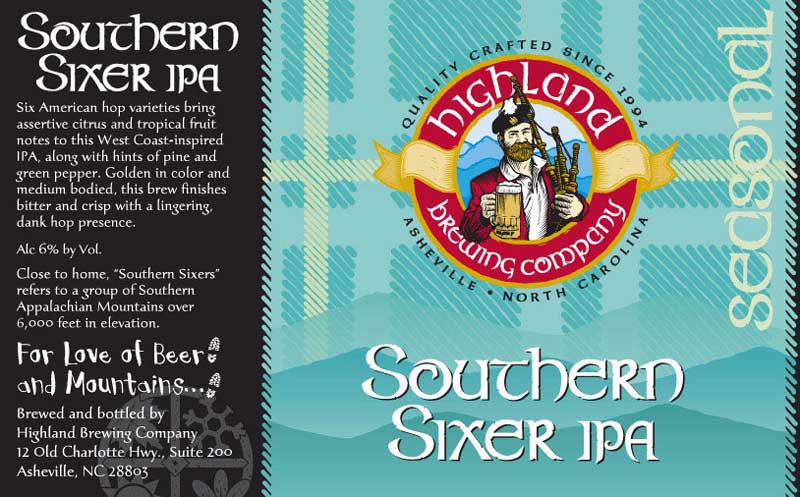 Brewmaster Hollie Stephenson explains her favorite part of this hop-forward beer, "I am excited about Southern Sixer because the bulk of the hops we are using, Equinox now rebranded as Ekuanot™, have never been used in a Highland beer before. Ekuanot™ and Mosaic® will carry the beer together, and the complementing four others are in the dry hop. Ekuanot™ is a very unique flavoring and aromatic hop that will give us cool characteristics, like ripe berry and cedar forest. Mixed with tropical Mosaic® and others, Sixer is going to be a uniquely fruity and resiny IPA, not just classic citrus and pine." Knowing the name well in advance, the brewing team had fun making every possible aspect of this beer relate to "six," from the number of hops to the ABV and IBUs. Even the packaging, typically offered in 12-packs, is available only in six-packs.
The first keg of Southern Sixer will be tapped at Highland Brewing on January 27th at 4pm. It will be the first keg of the first seasonal of the new year. Highland will have live music and food trucks on hand as part of the celebration. In addition to Southern Sixer six-packs to go, Hollie will offer a special hop tour of the six hops showcased in this beer. Enjoy an exploration of the aromas and flavors each hop brings to the brew. Afterward, guests are invited to roll right into a brewery tour with one of Highland's experienced guides. Hollie's hop tour will take place during Highland's normally scheduled 5:45 tour. Tours are limited to 25 people.
Southern Sixer, like Highland's other seasonal beers, is named for a protected feature of the Southern Appalachian landscape. Close to home, "Southern Sixers" refers to a group of Southern Appalachian mountains over 6,000 feet in elevation. Conserving this area's land and water retains its true value and beauty. To that end, every glass of Southern Sixer sold on January 27th will result in one dollar donated to the Southern Appalachian Highlands Conservancy. For more information about our efforts with SAHC, please visit Appalachian.org.
About Highland Brewing Company
Highland Brewing Company has crafted the highest quality beer with North Carolina mountain water since 1994. Family-owned and Asheville's first legal brewery since Prohibition, it is a favorite destination for beer fans, music fans, and families. From the balanced, food-pairing favorite Gaelic Ale, to the tad aggressive, fruit and pine hop-burst of Highland IPA, the portfolio always showcases quality. Highland's name honors the Scots Irish who settled in the Appalachian Mountains in the 18th and 19th centuries. To learn more about the nationally recognized solar array, tours, private events, free live music and more, come to the brewery or visit www.highlandbrewing.com.
About Southern Sixer
Six American hop varieties bring assertive citrus and tropical fruit notes to this West Coast-inspired IPA, along with hints of pine and green pepper. Golden in color and medium bodied, this brew finishes bitter and crisp with a lingering, dank hop presence.
Grist – 2 Row base, C-20, C-40
Original gravity – 14o Plato
Hops – Equinox, Mosaic, Columbus, Cascade, Chinook, Simcoe
Alcohol – 6% by volume
*IBU – 60 *International Bittering Units