Hi-Wire Brewing's Specialty Brewery Turns Sour
(Asheville, NC) – Hi-Wire Brewing's South Slope Specialty Brewery is currently transitioning from brewing a wide variety of one-time-release ales and lagers to brewing exclusively sour and wild beers. Although this shift will not change Hi-Wire's core lineup of beers, it will make the company one of the nation's only breweries to have a specialty program that revolves around both craft lagers and sour beers.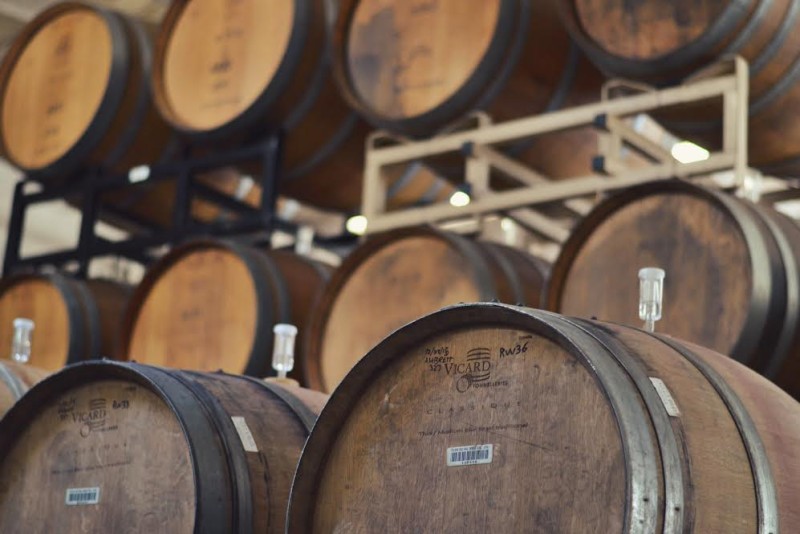 Few other breweries in the country focus on both craft lagers and sour beers because of the amount of time both take to produce, anywhere from eight weeks for specialty lagers up to eighteen months for barrel-aged sour beers. Despite the time and money required to fulfill this commitment Hi-Wire is dedicated to creating the highest quality of both of these historic styles of beer.
The souring of the brewery will be lead by two brewers – Luke Holgate, Hi-Wire's Head Brewer, and Jonathan Parks, Hi-Wire's Head Specialty Brewer. Both men are dedicated to quality and craft and are excited to launch Hi-Wire into the world of sour and wild beer.
"The specialty brewery allows us to be more nimble and create beers more spontaneously than the production brewery," said Holgate. "We have the flexibility to innovate, to become a brewery doing something different. And, we can't think of anything gutsier as a brewery than to specialize in both craft lagers and sour beers."
In the last two weeks, Hi-Wire moved several 30-barrel tanks from its South Slope Brewery to their Big Top location to provide more space for barrel storage at their budding wild-beer brewery. Although, no formal plans are in place for the first release of specialty sour beer, Hi-Wire Brewing is confident the first beers from this new program will come out this summer.
"Sour beers need time to age and perfect," said Holgate. "We want to let the barrels and the 'bugs' do their jobs fully, before we release a beer. As we continually taste our barrel-aging sour beers, as soon as we come across barrels that are just how we want them, we will bottle and condition them until we are absolutely sure they are ready for the public. We have always been committed to quality at the brewery and our sour program will be no exception."
Hi-Wire expects a fresh shipment of barrels to arrive in the coming weeks along with some additional equipment necessary for the project.
About Hi-Wire Brewing
Located in Asheville, NC, Hi-Wire Brewing is known for producing approachable and balanced ales and lagers, most notably Hi-Wire Lager, Prime Time Session Pale Ale, Bed of Nails Brown, and Hi-Pitch IPA. They have two locations in Asheville; the 27,000 square foot Big Top Production Facility and Taproom located a half-mile from the Biltmore Estate and the South Slope Specialty Brewery and Taproom located in the South Slope region of downtown. Hi-Wire was awarded the most medals at the 2014 NC Brewer's Cup and was named Best New North Carolina Brewery of 2013 by RateBeer. Their award-winning beers can be found on draft and in bottles across North Carolina, South Carolina and Tennessee.
www.hiwirebrewing.com – @HiWireBrewing – Facebook