Hi-Wire Brewing Hop Circus Experimental IPA Volume 4 Set For This Month
(Asheville, NC) –  ­ Hi­-Wire Brewing's Hop Circus Experimental IPA Series was created to push the boundaries of what has become to be expected from Hi­-Wire, which is known for creating balanced and approachable ales and lagers. Each beer in this rotating series highlights a different combination of hops and malts to create one­of­a­kind IPAs.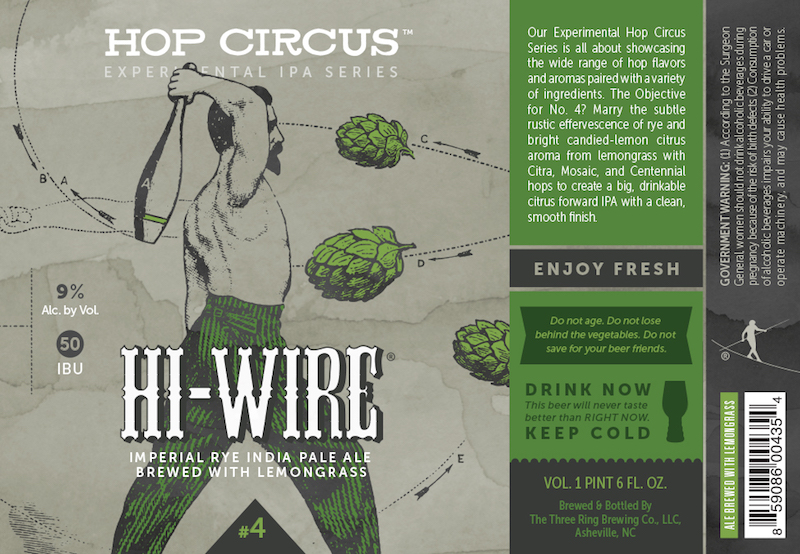 Volume No. 4 of their Hop Circus Experimental IPA Series, an Imperial Rye IPA Brewed with Lemongrass (9% ABV), marries the subtle rustic effervescence of rye & bright candied­ lemon citrus aroma from lemongrass with Citra, Mosaic, & Centennial hops to create a big, drinkable citrus forward IPA with a clean smooth finish. Hop Circus Volume No. 4 will be available mid September in 22 ounce bottles and on draught, seeing full distribution.
About Hi­-Wire Brewing
Located in Asheville, NC, Hi­-Wire Brewing is known for producing approachable and balanced ales and lagers, most notably Hi­-Wire Lager, Bed of Nails Brown, and Hi­Pitch IPA. They have two locations in Asheville: the 27,000 square foot B ig Top Production Facility & Taproom located half a mile from the Biltmore Estate and the South Slope Specialty Brewery & Taproom located in the South Slope region of downtown. Hi­Wire was awarded the most medals at the 2014 NC Brewer's Cup and was named Best New North Carolina Brewery of 2013 by RateBeer. Their award ­winning beers can be found on draft and in bottles across North Carolina, South Carolina, Tennessee, and Georgia. To learn more about the company, visit hiwirebrewing.com.