Heavy Seas Letter of Marque 2011 Release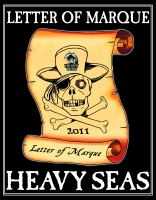 Heavy Seas released the winning beer from their Letter of Marque contest. Read about the story behind this beer as well as how to get your hands on it. Cheers!
The winner of the 2010 Heavy Seas Letter of Marque Contest was a team of homebrewers, Doug John & David Edmudson from Forest, VA.   Doug John, is the owner of Pints O' Plenty, a homebrew and craft beer shop offering over 200 craft brews.  Doug personally gives in home coaching whenever a new brewer purchases their first equipment kit – how's that for customer service!  Last year, David Edmudson, a friend of Doug's, purchased a kit and took advantage of Doug's offer to help him with his first brew.  The beer they entered, (one of Doug's recipes affectionately called Bastard Child), was only their second brew together.  As a team, they submitted two similar recipes, adding tarragon plus a few other secret ingredients to the second.  As it turns out, the original recipe was the Heavy Seas favorite!
The winning beer is a Belgian Dubbel clocking in at 8% ABV.  Doug originally created this recipe because Belgian ales were difficult to find in his area.  His 15 year old recipe has previously won a silver medal in the 1998 Canadian National Homebrew Competition and 1st place in Virginia's 1996 Dominion Cup.
This copper hued Dubbel has a floral aroma and smooth sweet flavor.  Nicely carbonated with a slightly spicy finish from the Belgian yeast, it is brewed with 6 kinds of grain and 3 noble hops.
Letter of Marque 2011 Belgian Dubbel will be available this June in 22oz bottles and limited draft.  Submissions for this year's Letter of Marque contest will be accepted June 6 – June 17 with the winner announced on July 1.  For contest rules and entry forms, click here.