Heavy Seas – Detailed 2011 Release Schedule and News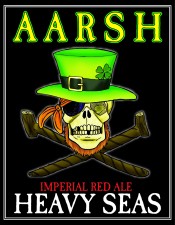 Heavy Seas, formerly Clipper City Brewing has shared with us their release schedule for 2011. Read on for new beers in the mix, as well as some interesting shuffles and additions. Cheers.
Mutiny Fleet – look for these in 22oz bottles and limited draft.  All are bottled conditioned and will become more complex as they age.
SIREN NOIRE Imperial Chocolate Stout  8% ABV –  English style imperial stout, fermented and flavored with imported Belgian chocolate nibs. Smooth and easy drinking. January
Siren Noire moves from Feb to Jan which is traditionally the Holy Sheet slot which has now been moved to March to make room for AARSH Red in Feb.
AARSH RED Imperial Red Ale  7% ABV – Our version of the Irish red ale, brewed with 3 kinds of grain then pulled through a pot o'gold filled with 2 kinds of hops  February   NEW
HOLY SHEET Uber Abbey Ale   9% ABV – A Belgian Abbey style that is both aromatic and full bodied. March
HANG TEN Weizen Dopplebock 10% ABV – A classic German-style weizen bock, slightly cloudy and bursting with flavor. It will benefit with aging up to two years.  April
You might notice, Hang Ten moves from July to April
BIG DIPA Double IPA  10.6%  ABV – Triple hopped during brewing, well balanced with  an earthy hop aroma and flavor.  May
LETTER OF MARQUE – Letter of Marque will feature a different beer every year selected from our national homebrew competition.  This year's beer will be a Dubbel. June
DAVY  JONES LAGER – Imperial Cream Ale  7% ABV – Fermented using lager yeast at "ale" temperature then
slowly lowered down to "lager", taking the yeast from the top down to the depths of Davy Jones locker.  July NEW
PROSIT! Imperial Oktoberfest Lager  8% ABV –  Malt focused with five types of grain including Vienna and Munich malts –  plus a secret extra malt that we use only in our Prosit!  Balanced with 3 kinds of hops.  August
THE GREAT PUMPKIN / GREAT'ER  PUMPKIN Imperial Pumpkin Ale   8.5% ABV – We add the pumpkin during the mash at precisely the right time to create just the perfect balance of malt, hops, pumpkin and spice.  The Great'er Pumpkin is a barrel aged version of the same.  September
SMOKE ON THE WATER – Smoked Imperial Porter 8% ABV  – Robust and well balanced with a hint of smoke.  October
YULE TIDE A holiday release whose style will change every year.  November
If you are wondering where Yule Tide is this year, it's been delayed due to slow fermenting. Here is Heavy Seas blog post addressing this matter.
In the past it has been a Belgian Trippel.  Starting in 2011 the 'holiday' style will change each year but still carry the Yule Tide name
BELOW DECKS ( and BARREL  AGED) – Barley Wine 10% ABV – Our award winning English style barley wine.   We will concurrently release a series of 3.  Our traditional and two which have been aged in wooden bourbon barrels or cabernet barrels. Vintage dated, it will benefit with aging.  December
All 3 versions of the Below Deck will release concurrently in Dec '11.  The star of these 3 I believe will be our Below Decks Cabernet which will have already been in the barrels for over a year. It's going to be FANTASTIC. A barley wine that has already aged a year without having to guard your beer cellar!
PYRATE FLEET – Bottle conditioned: We intentionally leave a small amount of live yeast in the bottle to naturally carbonate the beer, adding subtlety and complexity.
BLACK  CANNON – Black IPA   7.25% ABV  The style may be an oxymoron but this ale is an extension
of our Loose Cannon style brewed with dark malt.   January-March.    NEW
DUBBEL CANNON – Belgian Style IPA  7.25% ABV A variation of our Loose Cannon IPA fermented with
a Belgian Dubbel yeast. Tangy hops and a spicy aroma.   April-June.  NEW
RED SKY AT NIGHT –  Belgian style Saison  7.5 % ABV –  country farm house ale. A complex yet delicate ale, brewed with a unique Belgian yeast which develops a spicy, fruity flavor.   July – September.
WINTER STORM Imperial ESB  7.5%ABV  –  Brewed with copious helpings of English malts plus US and English hops. Full malty flavors dancing with powerful hop aromas and a lingering, firm hop bitterness. October – December
CLIPPER FLEET – featuring award winning, classic beer styles
SUMMER ALE – Light in color yet crisp & refreshing.  May – August