Heavy Seas Announces Red Sky at Morning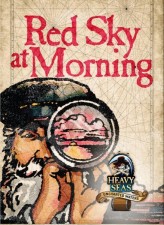 Baltimore, MD – The "Uncharted Waters" Series by Heavy Seas Beer will soon welcome its third new beer in 2015, Red Sky at Morning. This limited release will be available from July – August in all 18 states where Heavy Seas beer is distributed.
This is a very special version of the past seasonal, "Red Sky at Night." This beer is brewed with authentic Belgian candi sugar. It's then finished in Chardonnay barrels to give the beer a complex, dry finish. Old world (wine) meets new world (beer), so it's the best of both worlds! Explore with reckless abandon.
According to Brewmaster, Christopher Leonard, "Red Sky at Night has been a popular seasonal product for us for a few years now. And, while we do love it, we wanted to explore its "potential" by incorporating it into our "Uncharted Waters" program. We have never done a white wine barrel-aged beer before, but the core flavors of Red Sky at Night seemed like they would be a good fit for doing so – with a few tweaks, of course. Red Sky at Morning is a stronger beer than Red Sky at Night. We added a higher percentage of sugar to the boil, we increased the hop flavor slightly, and we employed a different yeast strain that produced spicier esters. All in all, we've retained the soul of Red Sky at Night, which is the sailor's delight, while adding flavor and aroma dimensions in a 10% ABV version that definitely fits the bill of Red Sky at Morning – sailor take warning."
Style: Belgian-style Saison aged in Chardonnay barrels
ABV: 9%
IBU's: 30
Availability: July – August
Malts: Pale malt, Wheat Malt, Acidulated Malt
Hops: Styrian Aurora, Hallertau Mittlefrue, French Strisselspalt
Suggested Glassware: Tulip Glass
www.hsbeer.com – @HeavySeasBeer – facebook