Heavy Seas Announces New Beers and Partnerships for 2016
(Baltimore, MD) – Heavy Seas Beer is pleased to announce several new additions to its portfolio in 2016. A pilsner, a citrus IPA, and an Oktoberfest lager are among the new year-round and seasonal offerings.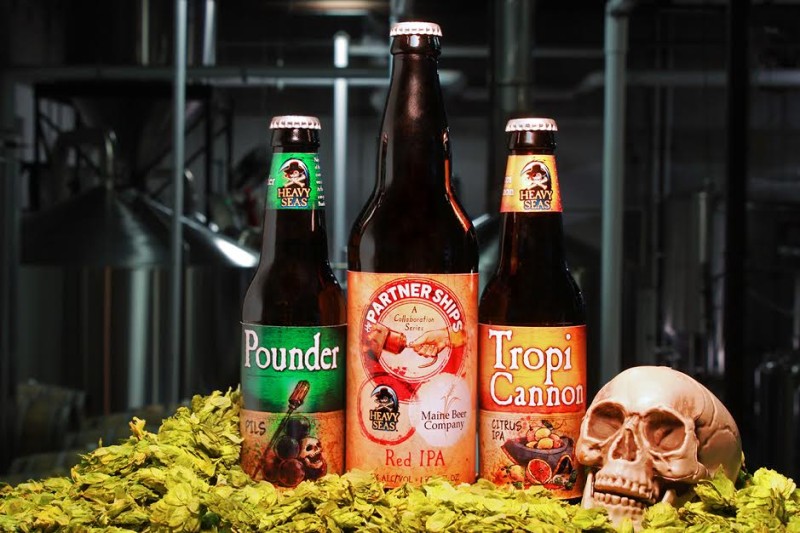 The limited-release series "Uncharted Waters" will also gain new additions, including the fourth edition of the PLANK series and the return of Below Decks barley wine.
The new "Partner Ships" series features collaboration beers with Maine Beer Company, Troegs Independent Brewing, Terrapin Beer Company, and Stone Brewing Company.
Finally, the new Boatload IPA Sampler, available year-round, will round out the changes for 2016.
"We are excited to change up a few things for 2016," said Heavy Seas Founder, Hugh Sisson. "In today's beer world, you have to be willing to constantly reinvent yourself – it keeps things interesting as well as challenging."
Details below:
Year-Round Beers:
Loose Cannon IPA
Double Cannon Double IPA
CrossBones Session IPA
NEW Pounder Pilsner
Powder Monkey Pale Ale
Peg Leg Imperial Stout
Seasonal Beers:
Deep Six Robust English Style Porter (available January – March)
NEW TropiCannon Citrus IPA (available April – June)
Smooth Sail Summer Ale (available April – September)
NEW Treasure Fest Oktoberfest Lager (available July – September)
Winter Storm Imperial ESB (available October – December)
'Uncharted Waters' Series:
Siren Noire Imperial Chocolate Stout aged in Bourbon barrels (available January – February)
NEW Plank IV Belgian-style Quad aged on four different wood varieties (available March – April)
Blackbeard's Breakfast Imperial Coffee Porter aged in Bourbon barrels (available May – June)
Red Sky at Morning Belgian Style Saison aged in Chardonnay barrels (available July – August)
Great'er Pumpkin Imperial Pumpkin Ale aged in Bourbon barrels (available September – October)
NEW Below Decks Red Wine (Cabernet, Pinot Noir, and Syrah) Barrel-aged English-style Barley Wine (available November – December)
NEW 'Partner Ships' Series:
Maine Brewing Company Red IPA (available February – March)
Troegs Independent Brewing Style TBD (available May – June)
Terrapin Beer Company Rye Wit Bier (available August – September)
Stone Brewing Company Style TBD (available November – December)
Samplers (Year-Round):
NEW Boatload IPA Sampler
Sunken Sampler
www.hsbeer.com – @HeavySeasBeer – facebook