Harpoon's Grateful Harvest Ale To Benefit Local Food Bank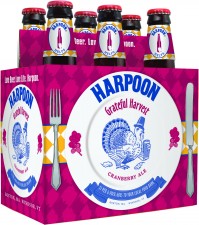 BOSTON, MA – The Harpoon Brewery is proud to introduce Grateful Harvest Ale, a New England cranberry ale brewed in the Thanksgiving spirit of giving back to the community.
For every 6-pack of Grateful Ale sold, the Harpoon Brewery will make a $1 donation to the local food bank in the area in which the beer was purchased.
The idea for Harpoon Grateful Harvest Ale was born out of the relationships the brewery has cultivated with New England food banks throughout the years.  Harpoon was founded on two principles: to make great craft beer and to be good neighbors within their community.  Since the brewery bottled its first beer in 1986, Harpoon has endeavored to make meaningful contributions to causes that are important to them and their customers.  What started as beer donations here and there, hosting fundraisers for friends from time to time, and producing small fundraisers, has developed into one of the brewery's most cherished programs: Harpoon Helps.  So far in 2010 alone, the Harpoon Helps program has raised more than $270,000 for local charities, donated more than 33,000 pints toward local charity events with approximately 144 local non-profits supported, and has performed hundreds of volunteer hours at local organizations.  Harpoon Grateful Harvest Ale will help raise desperately needed funds for the fight against hunger, with $1 from every 6-pack sold going to the local food bank in the area in which it was purchased.
Harpoon Grateful Harvest Ale is a beer brewed with Thanksgiving celebrations in mind.  Freshly harvested cranberries, donated by local cranberry farm AD Makepeace, lend a subtle tartness to the beer.  The cranberry flavor complements the malty character derived by the combination of Munich and Vienna malts. An addition of CaraMunich malt enhances the beer's reddish hue and adds a touch of sweetness, while Northern Brewer bittering hops complement the slight cranberry tartness.  A traditional top fermenting ale yeast was used to showcase the malt profile and accent the fresh cranberry aroma.  The result is a medium-bodied, malty and mildly sweet amber ale with a bready aroma and a subtle cranberry flavor.
Harpoon Grateful Harvest Ale Specs:
Style:  Cranberry Amber Ale
OG:     15.5
ABV:    5.9%
IBUs:   25
Color:  46
Pairing Suggestion:  Turkey with all the fixings
Harpoon Grateful Harvest Ale will be available in bottles from early October through early December.  A perfect accompaniment for the Thanksgiving table, it will be the featured beer at the brewery's 4th annual Harpoon Helps Beer-B-Q, a fundraiser for the Greater Boston Food Bank, on Sunday, November 14th.  The brewery will partner with competitive barbecue teams from the New England Barbecue Society to create a Thanksgiving-style meal prepared on massive smokers right at the Boston brewery.  In honor of this new beer, the event has been renamed "Harpoon Helps Grateful Harvest Beer-B-Q."  Several of the dishes offered will feature sauces using the Grateful Harvest Cranberry Ale.
For additional information about the Harpoon Brewery and Harpoon Grateful Harvest Ale, please contact Liz Melby at [email protected].
About the Harpoon Brewery:
The Harpoon Brewery was founded by beers lovers, Rich Doyle and Dan Kenary.  In 1986 Harpoon was issued Brewing Permit #001 by the Commonwealth of Massachusetts, since it was the first brewery to brew commercially in the state after a dormant period of about 25 years.  Harpoon's line of craft beer features its award-winning IPA and UFO Hefeweizen beers, along with four special seasonal selections. In 2000 Harpoon purchased a second brewery in Windsor, VT, making Harpoon the 10th largest craft brewer in the US.  Harpoon has since introduced two lines of limited edition beers, the 100 Barrel Series and the Leviathan Series, as well as the all-natural Harpoon Cider made from freshly pressed, local apples.  For more information about Harpoon beers and visiting the breweries, visit www.harpoonbrewery.com.